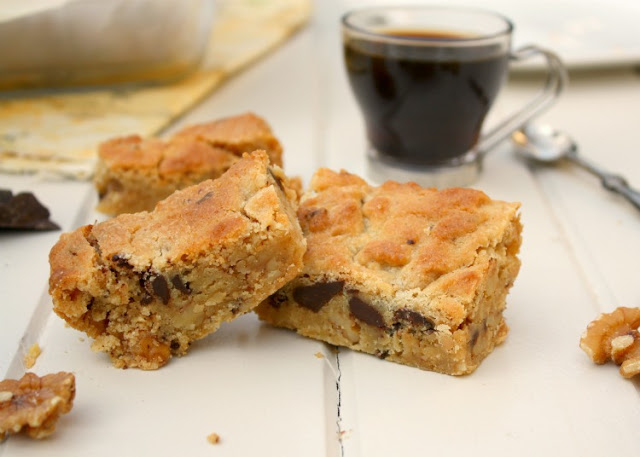 This week Radishes and Rhubarb celebrated its second anniversary and as you may know my last article was dedicated to the
10 most popular posts
of the last two years. At that time I also alluded to a new project that I will be unveiling soon (ooh, that sounds to formal).
Well, I have been diligently working away, trying to get everything ready and the happy news is that I will be sharing my new site with you next week. I hope you can come back then and take a look.
In the meantime, I thought you might be hungry. Feel like a little snack? I know I do and goodness knows I am ALWAYS in the mood for something with a little chocolate in it. A quick look at the
recipe index
will show I have a serious weakness for chocolate, but I am also quite partial to coffee and walnuts.
Today I bring all three in lovely harmony, I bring you Coffee Walnut Blondies.
I came up with these a couple of weeks ago when I tried making a recipe for fudge squares that turned out to be a total flop. The original recipe was a disaster; cloyingly sweet and completely unsatisfying. But it did lead me to
make fudge
for the first time, so not all was lost.
As for the squares, I was determined not to let a crappy recipe keep me from a chocolate treat so I ended up making these little beauties. A cross between a cookie and a brownie, they have a rich, buttery texture with a nice bitter note from the coffee and walnuts. Determination paid off in the end.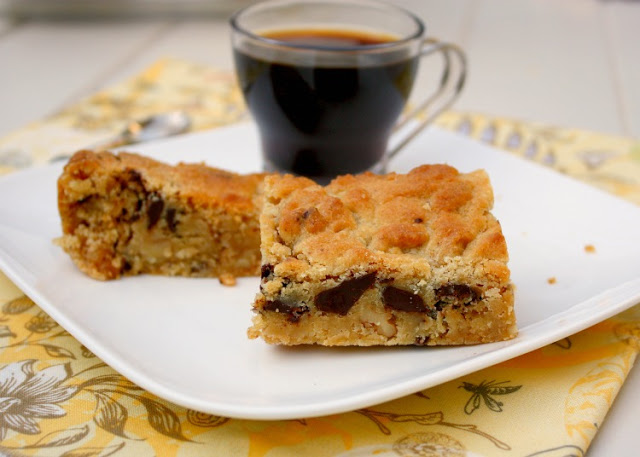 Coffee Walnut Blondies
Prep time:
10 minutes
Cook time:
25 minutes
Total time:
35 minutes
Yield:
12 servings
Ingredients
3/4 cups

butter

1/2 cup

granulated sugar

1/2 cup

packed dark brown sugar

1 tablespoon

brewed strong black coffee or espresso

1 extra large

egg

1 teaspoon

vanilla extract

1 1/2 cups

all purpose flour

1/4 teaspoon

salt

1 teaspoon

baking powder

1/2 cup

walnut pieces

3/4 cups

chocolate chunks (I chopped up a 65% cocoa chocolate bar)
Directions
Preheat the oven to 375 degrees. Grease and line an 8 inch square pan with parchment paper.
In a medium bowl or with a stand mixer, beat together the butter and sugars until creamy. Add in the coffee, egg and vanilla and mix until combined.
In a separate small bowl mix together the dry ingredients. Add dry ingredients to the butter, sugar and egg mixture and stir just until combined. Fold in the chocolate chunks and the walnuts.
Spread the mixture into the prepared pan and bake for 20 - 25 minutes or until golden brown. They are ready when a toothpick inserted near the centre come out with moist crumbs attached.
Leave to cool 5 minutes before cutting. They are great warm or cold. Enjoy!