Hi there and greetings from Hamilton, Ontario. Long time no see (hear?...write?), whatever it has been a while.
Way back in, God when was it... March, I published a lovely recipe about
Apple Butter
and then, well, things kind of turned up side down. First, my husband got a new job in the Hamilton area, which was great news but soon became a logistical nightmare for our family. With the amount of travel required for my job and now a 2 hour commute to and from work for him life became stressful to say the least. Coordinating dropping off, picking up, feeding and caring for children took a village, literally, and many undying thanks to all of the friends, neighbors and family members who pitched in and helped.
So, quickly determining this could not continue, we made the decision that I would quit my job (yeah), leave the city that I have lived in almost my whole life and LOVE (boo), and find a home closer to my husband's work.
Leaving work was not a hard decision. I hated the travel and am not overly fond of the values of the retail industry. Leaving the city was another matter. True, we have not moved that far, but for a life long city dweller and urbanite I can tell you that it has been quite an adjustment.
The good news is that I have more time to spend with my family and I have discovered very quickly that I love Hamilton. We found a neighborhood very much like where we lived in Toronto. The pace of life is much kinder, the people we have met are very warm and welcoming and the cost of real estate is heaven compared to Toronto. Now, if I could find a good latte we would be all set!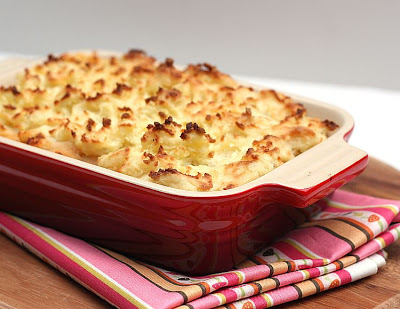 So now here I am (okay, took me a little longer to adjust than I anticipated) back at it and excited to be starting fresh in a new home, (with a fabulous big kitchen I might add), in a new city. And best of all I will now get to explore all of the wonderful local eateries, farmer's markets and food retailers. In fact, a trip to
Fenwood Farm
provided me with the ground beef I used in this recipe. We always bought our organic chickens from Fenwood Farms through our local butcher in Toronto, now we are just minutes away from the farm itself! Living out hear definitely has its advantages.
Having said all of that, let's get to why we are here...the recipe. I decided to start back with some comfort food: Shepherd's Pie. This is a great simple meal for a cool autumn night. It is very adaptable to individual tastes and is also a great "use up what I have in my fridge" kind of recipe.
Prep time:
25 minutes
Cook time:
25-30 minutes
Total time:
1 hour
Yield:
serves 6
Ingredients
1 pound

ground lamb

1/2 pound

ground beef

1 medium

onion

1 large

carrot, diced

2 stalks

celery, diced

2 cloves

garlic, minced

2 teaspoons

fresh rosemary, minced

2 teaspoons

fresh thyme, minced

1 tablespoon

Worcestershire sauce

1 tablespoon

olive oil

1/4 cup

water

1 small boiled

potato, mashed

1 cup

fresh or frozen peas

1 teaspoon

salt

1/2 teaspoon

pepper

Garlic Mashed Potato Topping
Cooking Directions
Preheat the oven to 350 degrees.
Over medium heat, brown the ground lamb and beef in a large saute pan with the tablespoon of olive oil. Add the onion, garlic, carrot, celery and chopped herbs. Saute 5 to 10 minutes until the vegetables are beginning to soften. Stir in the salt and pepper, Worcestershire sauce, mashed potato and the 1/4 cup of water. Simmer over low heat until the water is absorbed. The potato will help to thicken the mixture so that it does not fall apart when you are serving. Stir in the cup of peas and season to taste, adding more salt or pepper if you desire.
Transfer the meat mixture to an oven safe casserole dish. Top with the Garlic Mashed Potato Topping (recipe follows). Create a rough texture with the topping so that it browns while in the oven. Bake for 25-30 minutes, or just until the meat mixture is bubbling and the topping has browned. Serve and enjoy.
Garlic Mashed Potato Topping
Prep time:
10 minutes
Cook time:
20 minutes
Total time:
30 minutes
Yield:
6 servings
Ingredients
8 medium

Yukon Gold or other golden flesh potatoes

4 cloves

garlic, peeled

1/4 cup

butter

1/4 cup

milk

1/4 cup

grated Parmesan or Cheddar cheese

1 tablespoon

sugar

1 1/2 teaspoon

salt

1/2 teaspoon

pepper
Cooking Directions
Peel potatoes and chop into large pieces. Place potatoes and peeled garlic cloves in a medium sized saucepan and add enough water to cover.
Boil 20 - 25 minutes (while you are sauteing the meat and vegetables for the filling) until the potatoes are fork tender (meaning a fork or knife slides easily into the potato when you test it).
Drain the water from the saucepan and add the remaining ingredients. Mash together with a potato masher until the mixture comes together and is smooth. You can whip with a whisk or give it a whiz in the food processor if you want the potatoes really smooth, I don't bother.
Taste and season further with salt and pepper if desired.
Spoon the topping over the meat filling in the casserole dish and "rough up" the top with a fork so that it will drown nicely.