After going to the effort of buying and roasting an organic chicken, I try very hard to make the most of the leftovers. I really think there is something to be said for trying to approach cooking, and household management as a whole, the way our grandparents did. So many things, including the food we eat, have become disposable. This concerns me, not just because I care about what I feed my family but also because I care about what we throw out after we are done. Wherever I can I make things at home instead of buying them from a store and chicken stock is a good example of this.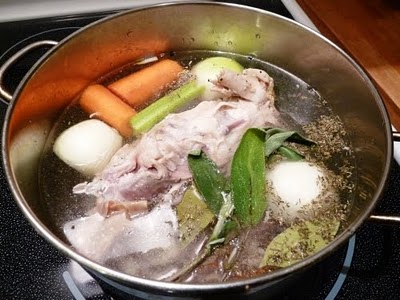 I have recently gotten in the habit of making stock after I have pulled all of the leftover meat off of the chicken. I began doing this partly in an attempt to be more frugal and partly because it makes a much better stock than what you buy from the supermarket. Also, it is ridiculously easy. I just throw the chicken carcass in a stockpot and add enough water to almost cover the bird. Then I add some spices, some vegetables and let it boil for an hour or so. When it is done strain the broth from the pot with a fine sieve and you have chicken stock.
Then I usually make stew or soup with the stock and the leftover chicken. This time I made stew. It was the first thing I served my daughter when I began to introduce her to meat. I just could not imagine serving an infant plain, dry ground up chicken. I wouldn't like it and I didn't imagine a child would either. So I took some chicken, cut it really fine and simmered it with some vegetables and a little stock until everything was very soft. She loved it then and still loves stew to this day. And when I make chicken stew I always make it with dumplings. There is something incredibly comforting about Chicken Stew with Dumplings. It is the perfect antidote to a cold winter day. So without further ado…Chicken Stock, Chicken Stew and Dumplings…
Chicken Stock
Leftover bones from a roast chicken
6 cups water or enough to almost cover the chicken
2-3 bay leaves
Sprig of fresh thyme
2-3 fresh sage leaves
½ teaspoon whole pepper corns
1 tablespoon salt, or to taste
2 medium onions peeled and quartered
2 carrots peeled and cut into large chunks
2 stalks celery cut into large chunks
3-4 cloves garlic peeled
In a large stockpot or Dutch Oven place chicken bones and remaining ingredients. Cover with water. Bring to a boil and then reduce to a simmer. Cover and simmer 1 to 1 1/2 hours until you have a golden and aromatic broth. Strain liquid through a fine sieve into a large bowl. Can be used immediately or stored in the refrigerator for 2-3 days. If you will not be using the stock within that time it can be kept in the freezer for up to 6 months.
Chicken Stew
4 1/2 cups chicken stock
2 tablespoons olive oil
2 cups or more of diced cooked chicken
1 large onion roughly chopped
2 carrots peeled and sliced into 1 inch pieces
2 stalks of celery cut into 1 inch pieces
1 large potato cut into rough chunks
2-3 garlic cloves, finely diced
1/4 cup diced canned tomato (optional)
1 cup fresh or frozen peas
1 teaspoon dried thyme
2 bay leaves
1/2 teaspoon dried sage
1/2 teaspoon ground pepper
1 1/2 teaspoon salt
1/3 cup flour
Saute onion, carrots, celery, potato and garlic in the 2 tablespoons of olive oil in a large saucepan or Dutch Oven over medium heat for 5 minutes or until onions begin to turn translucent. Add 4 cups of chicken stock, herbs and salt and pepper and bring to a boil over high heat. Immediately reduce to a simmer. Cover and simmer for 20 minutes or until vegetables are tender. Stir in diced chicken and diced tomatoes. In a small bowl mix the remaining 1/2 cup of stock with the 1/3 cup of flour to form a slurry, or thick smooth liquid. Pour the slurry into the simmering stew. Cook and stir until the broth is thickened. Stir in the frozen peas. At this point you can either serve the stew as is or make dumplings before serving.
Dumplings
adapted from
the Better Homes and Gardens Cookbook


1 1/3 cups all purpose flour
2 teaspoons baking powder
1/2 teaspoon dried thyme
1/4 teaspoon salt
1/2 cup milk
4 tablespoons vegetable oil
Mix the dry ingredients in a bowl. Mix the milk and oil and pour over the dry ingredients. Stir with a fork just until combined. Drop heaping tablespoons of the mixture on to the
bubbling
stew creating 4-6 mounds. Immediately cover the stew with a lid and leave to simmer 10 to 12 minutes. Do not lift the lid. After 10 minutes or so check to see if the dumplings are done. They should appear dry on the top and be firm to the touch in the centre, or a toothpick inserted in the centre will come out clean. Serve immediately with the stew.