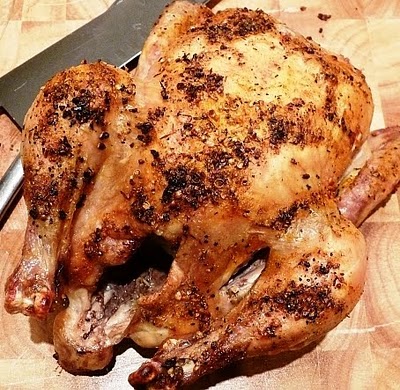 I have been thinking a lot about chicken lately. After reading
The Omnivore's Dilemma
by Michael Pollan I found myself thinking a lot about what we eat, especially the meat.
Growing up, meat always had the staring role at any meal; roast chickens were a weekly occurrence, roast beef a once a month Sunday night dinner treat and roast turkey a holiday staple. It was just the way we ate meat, always as the focal point of the meal. I'm sure many people had the same experience.
Now I don't really eat like that. We tend to eat pasta more often than roasts. Sure, turkeys are still a holiday staple, but the roast chicken once a week is a thing of the past, at least in my family. It's not that I don't like a nice chicken dinner, but I make a conscious effort to serve vegetarian meals at least twice a week and the rest of our meals tend to be small cuts of meat or fish (don't get me started on my angst about eating fish) with more vegetables.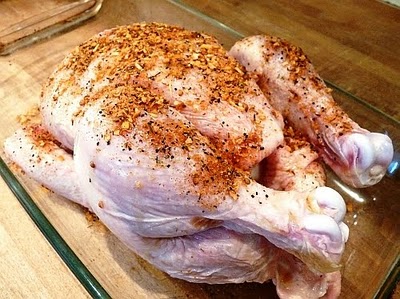 But Michael Pollan's book made me think even more about where my meat was coming from and how it was raised. I began to feel concerned about industrial farming practices and the impact they are having on our health, on the environment and on the animals. So, now, when I buy meat I try very hard to buy organic or at least traditionally raised. It costs a little more, which means I buy meat even less often, but I do feel it makes a difference. Chicken, in particular, tastes better and has a firmer texture.
And when I buy it I make sure I get the most out of it. I roast the bird, then I make stock from the bones and I make chicken stew or chicken soup from the leftover chicken, but more on that later. When roasting, there are a number of different methods I use, but sometimes what I feel like, and all a good bird really needs, is a little bit of seasoning and that's it.
Roast Chicken
5-6 lb roasting chicken
Salt, pepper or seasoning mix to taste
2 tbsp Olive oil or melted butter
Onion, cut into quarters
Lemon, halved
Seasoning mix
1 teaspoon kosher salt
½ teaspoon pepper
½ teaspoon paprika
½ teaspoon dried thyme
½ teaspoon dried onion flakes
Preheat oven to 375 degrees
Rinse chicken inside an out with cool running water. Pat dry and place breast side up into a roasting pan. Salt and pepper chicken cavity and stuff with onion quarters and lemon half. Do not overstuff as this will slow down the cooking process.
Rub breast and legs of chicken with olive oil or melted butter and sprinkle with good amount of salt and pepper or seasoning mix. You can truss the legs together at this point but I don't bother. Roast chicken for 1 ¾ -2 ¼ hours or until juices run clear when you poke a knife into the crease between the breast and thigh bones. You can also test if the chicken is done by using an oven thermometer. The internal temperature should read 180-185 degrees when the thermometer is stuck into the thickest part of the inside thigh muscle, near, but not touching the bone. The leg should also move easily in the socket and the meat on the leg should feel very soft.
Remove the chicken from the oven and let stand, loosely covered with foil for 15 minutes before carving. If you wish you can make gravy at this point
Chicken gravy
1-2 tablespoons flour
Pan drippings
1-2 cups chicken stock
Salt and Pepper
If you used a roasting pan that can be placed directly on the stove top, use that pan for making the gravy. If not, you will have to move the pan juices to a pot that can be used on the stove top after you complete the first two steps.
Angle the pan so that the drippings collect to one side and using a shallow spoon, skim the fat off of the top. Sprinkle the flour into the remaining pan juices while still in the roasting pan, but do not place on the stove top. Whisk the flour into the pan juices, scraping any brown bits from the bottom, creating a thick smooth paste.
At this point either move the drippings to a pot that can be used on the stovetop or place the roasting pan on the stovetop and turn the heat to medium. While whisking add 1-2 cups of chicken stock, creating gravy to your desired consistency. Season with salt and pepper and serve warm over the carved chicken pieces.