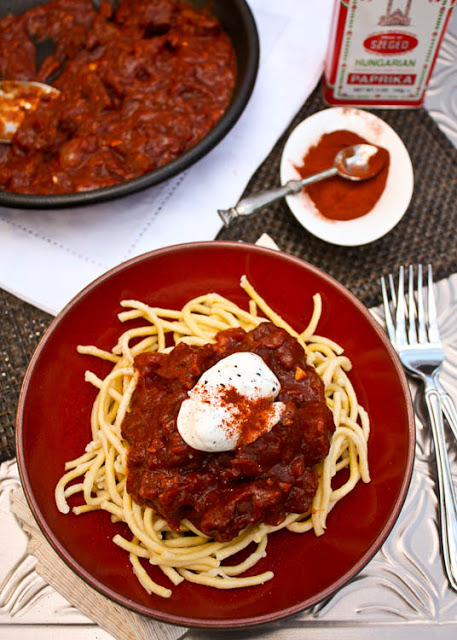 I try not to get stuck in a routine when cooking. I do have a roster of favourite recipes that make a pretty regular appearance but I like to be adventuresome and venture into the untried as often as possible. I think it is one of the best parts of life that there never seems to be a lack of new flavours, tastes and combinations to try. Plus, I want to encourage my children to keep an open mind and develop a sense of adventure as well.
So when I bought some stew beef the other day I resolved to do something other than my usual, which is pretty similar to what I do for
chicken stew
but with red wine, beef stock and rosemary. I wanted to try something new, with flavours that would be pretty out of the ordinary for my kids. All of which led me to decide on Goulash.
Now, I am am not saying Goulash is hard to make or that it is a complex recipe, because it is the same process as any other stew, it is just something that quite honestly has never graced our dinner table. I was not sure if I would like it and I knew there was a good chance my husband and kids would want nothing to do with it, as they are far less adventuresome than me but I forged ahead anyway.
How did it turn out? Truth be told I didn't love it. It was good and hearty and the spaetzle was a nice accompaniment but I found the paprika flavour overpowering. My husband however, thought it was delicious and my kids, much to my surprise, really liked it too.
So, why am I telling you all this and why am I going to the trouble to give you this recipe if I was not wowed by it? Well, because you're not going to love everything you make. I think that sometimes the adventure is the thing, even if it does not turn out with the best results. And I do truly believe what Julia Child said: "Learn how to cook- try new recipes, learn from your mistakes, be fearless, and above all have fun!"
So here is the recipe, and if you have never made Goulash, I suggest you try it. It might become one of your all time favourites, or you may not love it. That is the risk, that is the adventure and, to me, that is what makes it so much fun.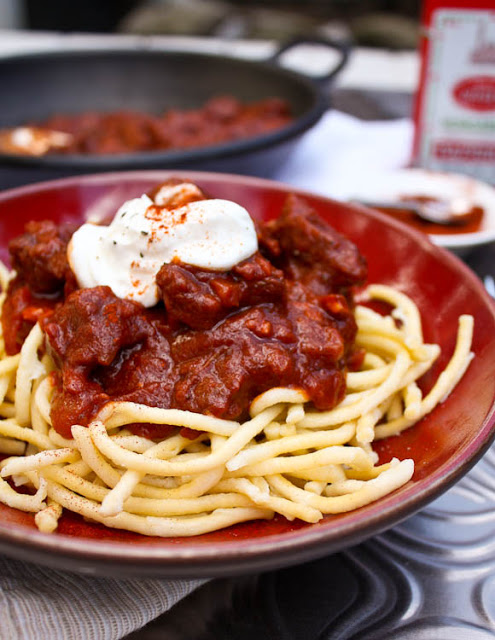 Hungarian Goulash
I adapted this recipe from one that I found on
Allrecipes
.
Prep time: 15 minutes
Cook time: 1 1/2 to 2 hours
Total Time: approximately 1 3/4 hours
Serves 4
Ingredients
1/4 cup

olive oil

1 pound

stew beef

2 medium onions

diced

2 cloves

garlic, minced

1 1/2 tablespoons

sweet Hungarian paprika

1/4 cup

tomato paste

3 cup

beef stock

1 teaspoon

kosher salt

1/2 teaspoon

freshly ground pepper
Directions
Brown the beef in the olive oil in batches using a large dutch oven sauce pan with a heavy bottom. Make sure all pieces have a been browned nicely on all sides. Remove from the pan and set aside.
Add the onions to the pan and saute 2 - 3 minutes until translucent. Add the garlic, paprika, salt and pepper and cook 1 minute more. Return the beef pieces to the pan. Add the tomato paste and stock and scrape the bottom of the pan to mix in any of the caramelized meat that has stuck to the bottom. Stir to mix all the ingredients and then bring to a boil.
Reduce to a simmer and cover. Let simmer, stirring occasionally, for 1 1/2 to 2 hours or until the meat is tender and the sauce has thickened. You can add additional stock if the sauce becomes too thick.
Taste and adjust the salt and pepper if needed. Serve over hot buttered spaetzle (you can find spaetzle noodles in the dry pasta section of most grocery stores) or over rice. You can also serve with a bit of sour cream. Enjoy.