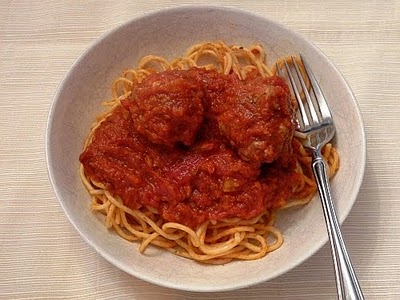 There are a few recipes that I consider essential in my kitchen, like
Buttermilk Pancakes
and
Roast Chicken
. Another recipe that falls under that category is Bolognese or meat sauce for spaghetti. This is especially true now that I have children, because they never tire of Spaghetti or "noonals" as my 2 year old calls them.
Despite its "essential" status in my kitchen, the ability to produce a good meat sauce seemed to elude me for a long time. Sure I made spaghetti sauce all the time, but it never had the thickness or richness of taste that I felt it should. I always found my sauce lacked…something.
Then one day I was watching Michael Smith create a spaghetti sauce on his show
Chef at Home
and all my frustrations were over. I tried his creation and it was perfect; thick and rich with the fullness and depth of flavour that I was looking for. Even better, I watched a group of Italian ladies recreate essentially the same sauce while watching an episode of
Jamie Oliver's Italian Escape
(yes I watch a lot of Foodtv) and I knew that I was making an authentic Bolognese.
So, there are a few secrets to the recipe. The first is the addition of pancetta or bacon to the sauce which adds an intense smoky and rich backnote.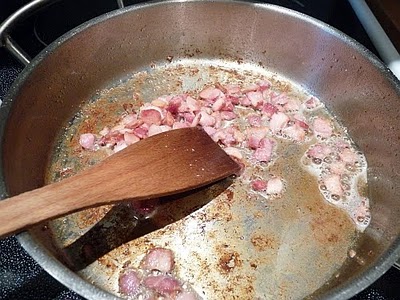 Second is to include a mixture of finely diced onion, carrots and celery (I use my food processor to finely mince the vegetables which saves time and makes sure that they incorporate well into the sauce). This combination thickens the sauce and counterbalances the acidity of the tomatoes.
Third is to use really good tomatoes. I use San Marzano tomatoes, which are available in the canned vegetable section of most supermarkets. They are so much better than the regular canned tomatoes. The sauce is thicker than the standard variety and they have a much better taste. Follow these steps, and if you wish add a glug of good red wine to the finished product, and you will have a fantastic Bolognese sauce.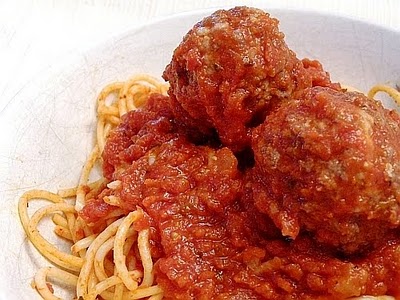 Bolognese Sauce
adapted from Michael Smith's recipe from
Chef at Home
1 small piece of pancetta or 2 slices of bacon, finely diced
2 tablespoons of good olive oil
1 carrot, peeled and finely minced
1 large onion peeled and finely minced
2 celery stalks, finely minced
2-3 cloves, garlic finely minced
1½ teaspoons oregano
2 28oz cans San Marzano tomatoes
1 5.5oz can tomato paste
1 tablespoon sugar
1 tablespoon of salt (or to taste, be careful as the amount will depend on how salty your bacon is)
½ tablespoon freshly ground pepper
2 tablespoons good red wine
1lb lean ground beef or mixture of ground beef and pork, or mixture of ground beef and Italian sausage, casings removed.
There are two ways you can deal with the meat in this recipe. You can either sauté it after the bacon if you want the meat incorporated throughout the sauce, or you can wait until the end, shape the meat into meatballs and add it to the sauce. Simply drop the shaped balls into the simmering sauce and leave them to cook for twenty minutes. I will cover the meatball process in more depth at the end of the recipe.
Mince carrots, onions, celery and garlic in a food processor or by hand. Set aside. In a large sauce pan, heat olive oil over medium heat. Add bacon or pancetta and sauté until browned and crisp. Remove from pan and drain on paper towel. Remove enough oil and bacon fat to leave about 1 tablespoon in the pan. If you are incorporating the meat throughout the sauce add it to the pan at this point and sauté until browned. Add the mixture of minced carrots, celery, onion and garlic. Sauté until soft but not browned. Add the oregano and sauté for a couple of minutes. Add the canned tomatoes, sauce and all, to the pan. Using a wooden spoon, break the tomatoes up into small pieces as you mix the ingredients together. Add the tomato paste, sugar, salt and pepper. Stir into the sauce. Simmer for twenty minutes on low heat, stirring occasionally. The sauce will thicken and the flavours will meld together. Add the red wine if desired and allow the sauce to cook a couple of minutes more. The sauce is now ready to serve.
Meatballs
1lb lean ground beef or mixture of ½ lb of ground beef and ½ lb of ground pork, or mixture of ½ lb ground beef and ½ lb of Italian sausage, casings removed.
1½ teaspoons salt
½ teaspoon freshly ground pepper
1 teaspoon garlic powder
I keep my meatballs pretty simple and this is my preferred way to add meat to the Bolognese sauce. After the sauce is ready I mix ½ lb of ground beef with a ½ lb of Italian sausage, casing removed. Place the meat into a large bowl and add the salt, pepper and garlic powder. Mix together. Be careful not to over mix the meat or it will be tough, you need a light touch for this part. Shape the mixture into 1 inch balls and drop them into the simmering sauce. Turn the heat to low and allow the meatballs to simmer in the sauce for 20 minutes. Do not stir for the first 10-15 minutes to prevent the balls from breaking apart. They will cook in the sauce and absorb some of the flavour. After 20 minutes, check to see that they are cooked through by breaking one meatball in half. Once they are cooked you are ready.
Serve the sauce over the pasta of your choice and add a good grating of really nice parmesan cheese.