When my eldest daughter was born my husband and I were surprised and delighted to discover that she had blue eyes. We had anticipated a brown eyed baby but she was born with the most amazingly deep blue eyes.
A few months later, when I was out for a walk with her, I had an encounter with a stranger that reminds me to this day how striking my daughter's eyes were when she was born. She was bundled up in her stroller and I was shopping, in and out of fruit stands and food stores, just enjoying the chance to get out and to show her off.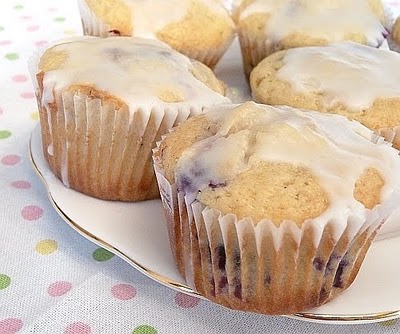 At the last shop we stopped into I was at the counter paying for something when an elderly lady came up to peek in the stroller. The lady took one look at my daughter and said, "You look just like a blueberry muffin, you have such blue eyes." I thought it was such a cute thing to say and I called her my blueberry muffin for a while after that. I also immediately had a craving for blueberry muffins and went right home and made them.
A couple of years later we had another beautiful blue-eyed daughter, so now we have two blueberry muffins at home.
My mother has a muffin cookbook that is now just a collection of loose pages. It has been used so much and so many pieces have been lost that I can't even say what it is called or where it came from. It was from this book that my mother took her blueberry muffin recipe. I remember when I moved out on my own it was one of the first recipes I asked for. I had tried to find a recipe of my own that I liked but they never seemed to match hers so this is now my blueberry muffin recipe.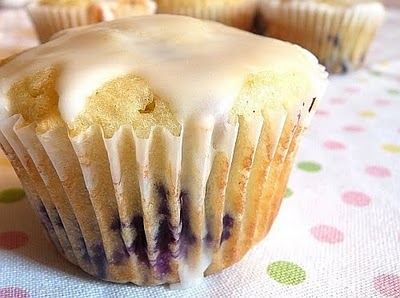 It makes a nice dense muffin with a subtle vanilla flavour that is the perfect backdrop for the blueberries. It is versatile enough that it could be made into a chocolate chip muffin, or lemon cranberry or pretty much any muffin recipe that requires a basic vanilla cake. When I make it with blueberries I add just a hint of cinnamon to the batter and a little lemon zest, but I would take those out for chocolate chip.
Blueberry Muffins
makes 12 muffins
2 cups all purpose flour
3 teaspoons baking powder
½ teaspoon salt
¼ teaspoon cinnamon
½ cup room temperature butter
1 cup sugar
2 eggs
1 teaspoon vanilla
1 teaspoon grated lemon peel
1 cup milk
1 cup fresh or frozen blueberries
Preheat oven to 375 degrees and place oven rack to the middle of your oven. Line the muffin tin with paper liners.
In a small bowl, stir together flour, baking powder, salt and cinnamon. Set aside. In a medium, bowl or electric mixer cream together butter, sugar and lemon peel until light and fluffy. Add eggs one at a time and mix until incorporated. Add vanilla to milk. Begin alternating dry ingredients and milk mixture into the batter beginning and ending with the dry ingredients. Mix just until incorporated. Scoop the batter by ¼ cupfuls into the prepared muffin tin. The paper liners should be 2/3 full. Bake for 20-25 minutes or until the muffins are golden brown and spring back when lightly touched in the centre. Remove from oven and cool completely on baking rack before glazing.
Lemon Glaze
1 cup icing sugar
2-3 teaspoons fresh lemon juice.
Mix icing the sugar and lemon juice in a small bowl. The glaze should have a runny consistency. Spoon glaze over cooled muffins and allow it to drizzle over the sides. Enjoy!