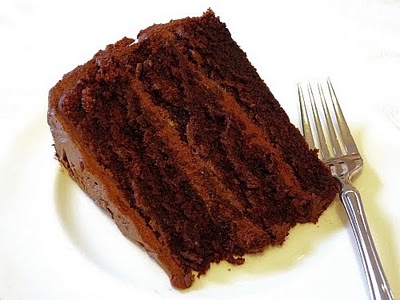 We love our desserts around here. You can tell this from the previous posts about
chocolate chip cookies
,
chocolate sandwich cookies
,
plum tarts
,
brownies
,
blueberry muffins
, and
Darby cakes
….and I have only been posting for about 2 months. We are definitely addicted to the sweet stuff. I have talked a lot already about what makes a good cookie or the bliss of a perfect brownie, but up until this point I have not included a single cake recipe and I thought that oversight needed to be corrected immediately.
So brace yourself, I am going to wax poetic about cakes.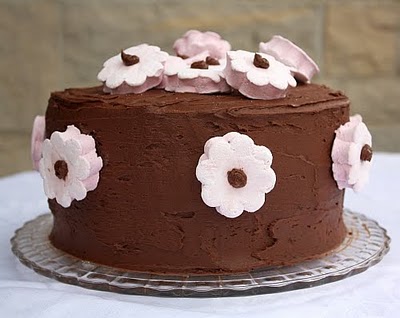 I have a
cookbook
in my collection that includes a chapter called A Cake is a Miracle Thing, and I agree. There is something miraculous about a cake. It always seems like a kind of alchemy to me, to take flour, eggs, sugar and butter and end up with something both airy and moist. And I love the ritual of making a cake, the procedure that generally does not change, despite the multitude of ingredient possibilities…cream butter and sugar, add eggs, alternate dry and wet ingredients.
When my mother was growing up Thursday was cake day because that was the day my Grandfather made cakes for
the shop
. He would always bring one home for dinner and it was a big treat every week. And that is the other thing I love about cakes, no matter how often you have one, they still seem like a treat.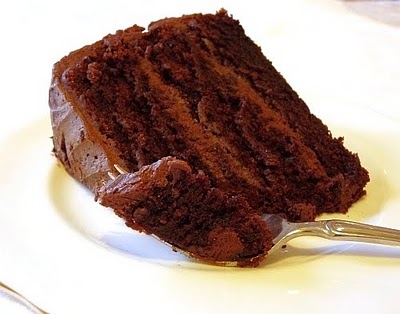 I have been on a quest for a long time to find the perfect chocolate cake recipe. I find chocolate cakes are particularly prone to being dry so I have spent a ridiculous amount of time finding one that consistently turns out moist. For awhile I was using the recipe from
The Barefoot Contessa Cookbook
, which is an excellent cake. Then last Christmas I made the Hot Chocolate Layer Cake recipe out of the Dec 2009/Jan2010 issue of
Fine Cooking
, and it was THE ONE. A great cake..dense and moist but still somehow light and airy with an intense chocolate flavour. I topped the cake with homemade Cherry Marshmallows that I cut into daisy shapes. I will be featuring that recipe in a later post.
Hot Chocolate Layer Cake
adapted from the Dec 2009/Jan 2010 issue of
Fine Cooking Magazine
Despite what I said above about cakes following a standard procedure, this recipe is the exception to the rule. Read through the entire recipe and follow as directed for the best results.
3/4 cup unsalted butter
3 cups unbleached all-purpose flour
3/4 cup neutral tasting oil, such as vegetable or canola
4-1/2 oz. bittersweet chocolate, chopped
1 cup water
3 cups sugar
3/4 cup unsweetened cocoa powder
3 large eggs, at room temperature
3/4 cup buttermilk, at room temperature
2 tablespoons pure vanilla extract
2-1/2 teaspoon baking soda
1/2 teaspoon salt
Preheat the oven to 350 degrees. Position your oven racks to the middle of the oven. You will need to get two racks as close to the middle as possible, but still leave room for the cake to rise without coming in contact with the rack above. Butter three 9 inch round cake pans and line each with parchment paper. Then butter and flour the parchment and sides of the pan, removing any excess flour.
Combine oil, butter, chopped chocolate, and 1 cup water in a large saucepan. Heat over low heat until melted and combined.
Whisk the sugar, flour and cocoa powder together in a separate large bowl. Pour the hot chocolate mixture into the flour and sugar mixture and whisk until combined.
Whisk in the eggs, one at a time, then the buttermilk, vanilla, baking soda, and salt. Divide the finished batter evenly among the three prepared pans.
Place two pans on the top rack and the third on the lower rack of your oven. Stagger the pans so that they are not directly over each other. Bake 35 to 40 minutes. To ensure even baking, at the 20 minute point swap the pans so that the one on the lower rack is now in the upper rack. Cakes are done when they spring back when touched lightly in the centre or when a toothpick inserted near the centre comes out clean. Cool on racks for 10 minutes and then remove from pans by inverting the cakes and removing the parchment paper. Cool completely on the cooling racks before icing your cakes.
Chocolate Buttercream Frosting
I did not use the frosting recipe from Fine Cooking for my cake. I found it very involved and I like the basic buttercream as I feel it balances the richness of the cake. If you want the original frosting recipe or the marshmallow follow the Fine Cooking link in the post above.
1 cup room temperature butter
3/4 cup unsweetened cocoa powder
1 teaspoon vanilla extract
4 cups icing sugar
3-4 tablespoons milk
Using a hand beater or stand mixer, at low speed, cream together butter, cocoa powder, vanilla extract and icing sugar. The mixture will be stiff and dry and this point. Continuing at low speed add milk a tablespoon at a time until the frosting reaches the desired consistency. Turn your mixer onto high speed to make the frosting light and fluffy. Spread immediately between the layers and on top and sides of cake.