Hi, it's me. It's been a while. I have gotten a little off track with my schedule. Life has just gotten in the way a bit. Back to school, sick child, busy job and how do you get it all done? Honestly, if I could figure out the answer to that question I would be much more organized, and a millionaire. But I am making a concerted effort to get back into the rhythm of things.
The good news it that I have still found the time to cook. So tonight I am writing about the Apple Pandowdy I hinted at during
my last post
. Now, I am not going to pretend I have much experience with this dessert. In fact, what made me try it was the name...I have always wanted to make an Apple Pandowdy, I just like the sound of it...Apple Pandowdy.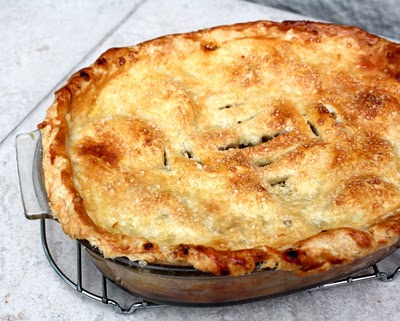 I remember my mother singing "Shoofly Pie and Apple Pandowdy makes your eyes light up and your tummy say howdy". It's an old song, and I don't know where it comes from, but it planted a desire to try those desserts firmly in my brain (I still haven't tried Shoofly Pie, but one day...).
As it turns out it is just a simplified version of an apple pie. The recipe I tried included raisins and rum, which is what sold me. Also, I really liked the spice combination, this was like my first real "Autumn" dessert of the year. The apples are cooked in a baking dish with a biscuit or pastry topping, which made for a nice fruit to pastry ratio. I often find regular apple pie too heavy on the pastry side. Overall I would have to say it did make my tummy say howdy...now we'll have to see about Shoofly Pie.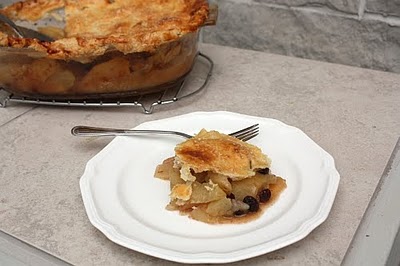 Apple Pandowdy
Adapted from a recipe found in the July 2010 issue of
Canadian Living Magazine
.
1/2 cup raisins
1/4 cup rum or brandy
8 cups sliced peeled apples
1/3 cup sugar
2 tablespoon flour
1/2 teaspoon ground cinnamon
1/2 teaspoon ground ginger
1/8 teaspoon ground cloves
1/8 teaspoon ground nutmeg
1 egg yolk
2 tablespoons coarse sugar
Single Crust Pastry Recipe:
1-1/4 cups all-purpose flour
1/4 teaspoon salt
1/3 cup shortening
4-5 tablespoons ice cold water
In microwaveable bowl, stir raisins with rum. Microwave on high for 1 minute. Let stand for 15 minutes.
In large bowl, toss together apples, raisins and any remaining rum, sugar, flour, cinnamon, ginger, cloves and nutmeg. Spread in 8-inch baking dish.
To make the pastry, in a small bowl mix the flour and salt. Cut in the shortening with a fork or a pastry cutter until the mixture resembles coarse crumbs. Add the cold water and stir just until the dough starts to pull together.
Turn out onto a well floured surface. Quickly shape into a ball and roll out to a 1/4 inch thickness.Lay rolled pastry over the fruit, draping the excess over the side of the baking dish. Flute the edge of the pastry by pinching it together between your thumb and first finger. Trim off the excess. Mix yolk with 1 tsp water; brush over pastry. Sprinkle with coarse sugar. Cut steam vents in top.
Bake in 400°F oven for 20 minutes. Reduce heat to 350°F and bake until pastry is golden, about 25 minutes. Remove from oven and cool.
You can break the pastry into 2 inch chuncks with a large spoon, which is the "dowdy" part of pandowdy, but I didn't bother because this happens as you serve it. It is great warm with a little vanilla ice cream.