This seemed like a good recipe for a crisp Autumn day. Cinnamon Buns...there is nothing like them, warm out of the oven on a cold morning, it just makes the whole house smell delicious.
I have been craving them for a while, ever since my last trip up to my parent's place. We visited
my uncle's bake shop
(the same shop my grandfather used to run) and bought Chelsea Buns. That is what my Grandfather called his cinnamon rolls. When I got home, I found I was still craving them. That warm, heady smell of yeast and bread rising mixed with the thick perfume of cinnamon is almost visceral for me.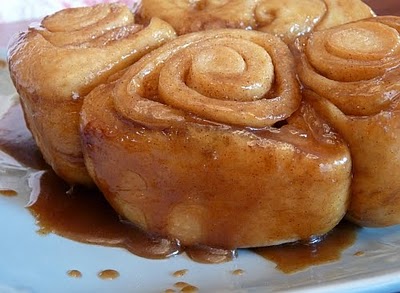 That, to me, is the essence of being in my grandfather's shop. Early in the morning, before it was open and before customers were coming and going, the air always felt very close, almost unbearably warm and humid. The combination of the ovens heating and the proofing room full of rising bread created a warm cloud of sweet smelling air that hit you as soon as you walked through the door. Even now, whenever I go into a bakery, I experience the same feeling I used to have walking into my grandfather's shop early in the morning. It's hard to describe, it's almost like I feel it in my chest and my head at the same time, memory mixed with the aroma of bread baking.
I think my grandfather liked working with the bread the most. It had endless possibilities...egg bread, brown bread, sweet bread, bread brimming with cheese or little delicate rolls that he would shape into ovals or rounds or ones that to me looked like butterflies in little cups. But best of all was bread that he rolled flat, filled with cinnamon and sugar and baked in a pool of caramel sauce. There were 12 in a pan, smaller and more delicate that the monstrously large cinnamon buns you can buy now.
This recipe is not the one from the shop, but it is a very close approximation. I used the
Challah recipe
from the
Artisan Bread in 5 Minutes a Day

cookbook and I followed the directions to turn the bread into cinnamon rolls. They turned out beautifully. Because the recipe came from that cookbook the dough was very simple to make and easy to work with. The recipe seems daunting, because there are so many steps, but do not be turned off by it. It is easy to do and you will have the reward of a beautiful smelling house and and a wonderful treat just waiting to be enjoyed.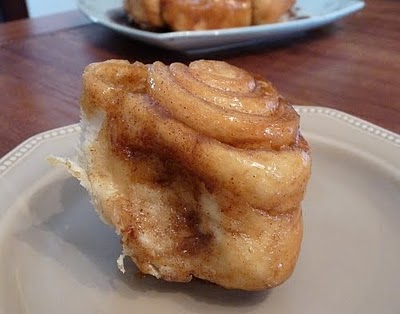 Cinnamon Rolls
adapted from
Artisan Bread in Five Minutes a Day

by Jeff Hertzberg and Zoe Francois
1 3/4 cups lukewarm water
1 1/2 tablespoons granulated yeast (2 packets)
1 1/4 tablespoons salt
4 large eggs, lightly beaten
1/2 cup liquid honey
1/2 cup butter, melted
7 cups unbleached all-purpose flour
Part One: Making the dough
Mix the yeast, salt, eggs, honey, and melted butter with the water in a large bowl or food container. The dough will stay in whatever vessel you use to mix it in, so make sure it is large enough to store the risen dough but small enough to fit comfortably in your refrigerator.
Using a wooden spoon, mix in the flour. The flour must be completely incorporated so you can use an electric stand mixer if you have one with a big enough bowl. Other wise, stir until the flour is completely combined to create a sticky loose dough. You can use wet hands to incorporate the last of the dough if you need to.
Cover your container and allow the dough to rest at room temperature until it rises and and falls back a bit, or becomes flat on top. Make sure when you cover the container that you leave it open a bit to let the gas created by the rising process to escape. I cover my bowl with clingwrap and leave a little crack loose on one side. The rising process will take about 2 hours.
Once the dough has risen it can be used right away or can be placed in the refrigerator for future use. Due to the eggs in the recipe is should be used within 4 days. If you can not use it in that time, cut the dough into one pound pieces, about the size of a grapefruit, and freeze them in freezer safe bags for up to 4 weeks. Remove as much air as possible from the bag before placing in the freezer and defrost in the refrigerator overnight when you want to use one.
Part Two: Making the Cinnamon Rolls
Caramel Sauce
6 tablespoons room temperature butter
1/2 teaspoon salt
1/2 cup brown sugar
Cinnamon Filling
4 tablespoon room temperature butter
1/4 cup sugar
1 tsp ground cinnamon
1/4 tsp freshly grated nutmeg
In a small bowl, cream together the butter, salt and brown sugar to make your caramel sauce. Spread the mixture evenly over the bottom of a 9 inch square or round pan. Set aside.
Pull a melon sized ball from the prepared dough. Flour your hands and gently but firmly shape the piece of dough into a smooth ball by stretching and tucking the sides under. Place on a well floured surface and let the dough rest, covered with a towel to take the chill off while you prepare rest of ingredients.
For the filling, in a small bowl cream together the butter, cinnamon, nutmeg and sugar. Set aside.
Now, roll the dough into an 1/8″ thick rectangle. Spread the filling evenly on the surface. Then roll the dough up, starting with the long side. Take a serrated knife and cut it into 9 even pieces. Place the cut pieces, cut side up, in the prepared pan, lining them up so that they fit evenly. Cover loosely with a towel and let sit until almost double in size, about an hour.
Preheat the oven to 350 degrees. Bake 35-40 minutes in the centre of the oven until golden brown.
Remove from oven and run a knife around the edge of the rolls to loosen them from the side of the pan. Invert onto a plate. Let cool a bit before serving, if you can wait that long.