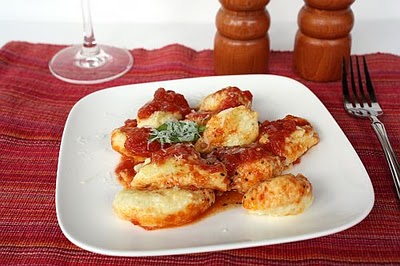 I have never made homemade pasta. It is one of those things that I find intimidating. I have promised myself that I will try to tackle it...one day. It is on my to do list.
I think what keeps me from making it is the fact that I do not have any of the fancy equipment. I know that it will require endless amounts of tedious hand rolling to get a nice thin sheet of pasta. And then I will have to hand cut all of the noodles, ugh. (Did I just admit to being lazy?)
At any rate, I
have
made homemade gnocchi. In fact, I have made it more than once and each time it has turned out beautifully. That's close, it is in the pasta family... it counts. The recipe that I keep going back to is Ricotta Gnocchi. Truth be told, I am not a huge fan of the regular potato gnocchi. More often than not I find it doughy and thick and just too starchy.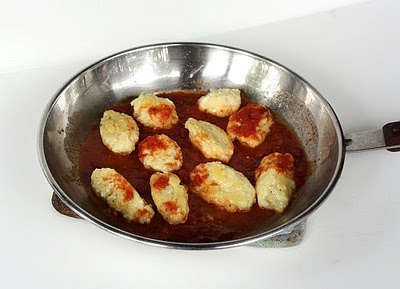 But these Ricotta Gnocchi are a whole different story. They are light and delicate. They have a very subtle cheese and egg flavour which pairs very nicely with the roasted tomato sauce. This recipe requires a bit of time and work. The tomato sauce is the most involved piece, in that you have to roast the tomatoes before you bring the sauce together.
They are worth the effort and while I would not recommend this dish for a weeknight meal it is a great option for a night when you have a little more time and you want something special. And the best part is you can pat yourself on the back because you have made homemade pasta. (That's right, it counts!)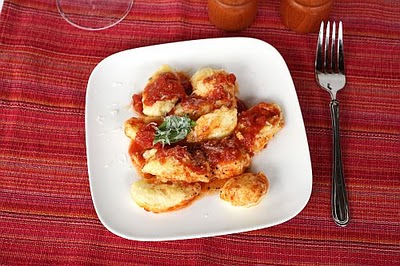 Ricotta Gnocchi with Roasted Tomato Sauce
adapted from the September 2000 issue of
Gourmet Magazine
2 lb plum tomatoes, trimmed and halved lengthwise
1/4 cup olive oil
1/4 cup water
2 tablespoons butter
1 teaspoon salt
1/2 teaspoon pepper
3 large eggs
1 (15-oz) container ricotta
1 cup all-purpose flour
handful of fresh basil leaves
freshly grated Parmesan cheese