When I posted my
Chocolate Chip Cookie recipe
back in February, I honestly thought that was it for me. I have tried all kinds of recipes: ones that include oatmeal, ones that rest for 36 hours, ones that are chewy or crispy or something in between but I just keep coming back to the original
Tollhouse
recipe. I thought there was nothing else I could add to the discussion. Then I had an epiphany.
I am a big fan of almonds and after I made the
Rhubarb Almond Cake
a couple of weeks ago, I wanted to make something else with them. I got thinking about cherry and almond, a pretty classic french combination, but I wanted to throw a little chocolate into the mix. I decided on Cherry Almond Chocolate Chip cookies. Boy, what a good combination.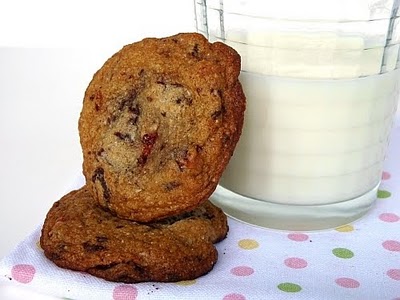 I added a little ground almond to the recipe along with almond extract and some glace cherries. Then I took it a step further. Instead of regular chocolate chips I chopped up a 72% cocoa chocolate bar and added it to the mix. Delicious,
melty
, chocolaty with a great chewiness from the almonds and cherries. I have a feeling it will be awhile before I go back to regular chocolate chip cookies.
Cherry Almond Chocolate Chip Cookies
2 1/4 cups all purpose flour
1 teaspoon baking soda
1 teaspoon salt
1 cup butter, slightly colder than room temperature
3/4 cup sugar
3/4 cup packed brown sugar
1/4 cup ground almonds
1/2 teaspoon vanilla
1 teaspoon almond extract
2 large eggs
2 cups chocolate chips
1 cup glace cherries
Preheat oven to 375 degrees. Position oven rack to the middle of the oven.
Mix dry ingredients together in a small bowl. In an electric mixer, beat together butter, sugars, ground almond, almond extract and vanilla until creamy. Add eggs one at a time, mixing well after each addition. Mix in dry ingredients just to incorporate, do not over mix. By hand, stir in chocolate chips and cherries.
Drop by rounded tablespoon onto an
ungreased
baking sheet. Bake 9-11 minutes or until edges are golden brown. Remove from oven and let sit 2 minutes. Remove to cooling rack to cool further. Enjoy warm!