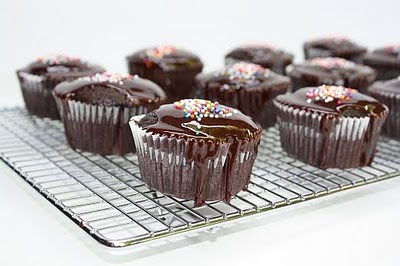 Yes, I made vegan cupcakes and I want you to know they were
very
good. Not just okay, or "not bad for a vegan recipe" but very, very good. In fact, I think they turned out better than the cupcakes that I made from my favourite
Chocolate Cake recipe
.
I had not originally set out to make something vegan but circumstances pushed me in that direction and the result was a nice surprise. I was bringing cupcakes to my daughter's kindergarten class for her birthday but it turned out that one of the little guys in her class had a dairy and egg allergy. I decided that I would find a vegan recipe so he could have a cupcake too.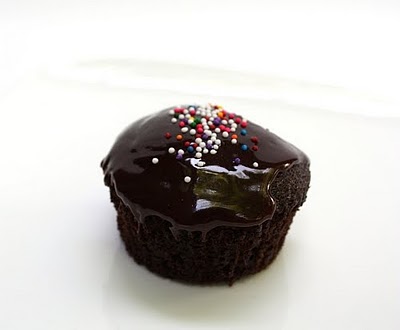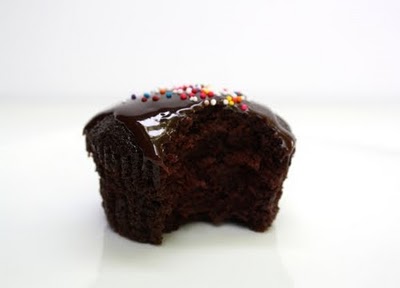 Being the skeptical sort, my original intention was to make the regular chocolate cupcakes for the class and just bring a couple of the vegan cupcakes for him. Then, by one of the mysterious laws of baking, the cupcakes from my usually oh so moist and wonderful
Chocolate Cake recipe
turned out a little dry. This seems to be a fairly common problem. Something that works so well in the larger cake form does not hold up in the smaller cupcake version. When the vegan ones turned out so fluffy, moist and rich I decided to bring them for everyone.
Up until now I had been unconvinced that you could make something as light and airy as a cake without the use of butter, milk or eggs. Most of the vegan baked goods I had tried so far always seemed a little…meh. Well, this recipe has made me a believer and it made me a little curious. I decided to search around on the web to find other vegan baking recipes and I came across
this site
. Now, I'm not saying I am giving up baking with butter, milk and eggs, but I am definitely open to trying new things. Plus, it never hurts to have a full bag of tricks for when you just have to have a cake, or a cookie, or a pie, or a pudding, or…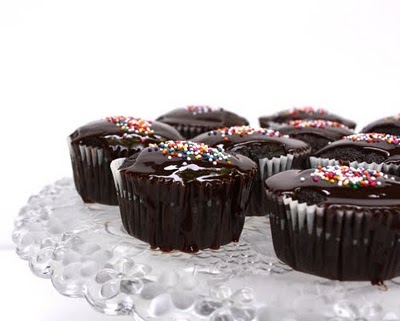 Vegan Chocolate Cupcakes
from a
recipe
found at the
Instructables
website
for the Cake:
1 1/4 cups flour
1 cup sugar
1/3 cup unsweetened cocoa powder
1 teaspoon baking soda
1/2 teaspoon salt
1 cup warm water
1 teaspoon vanilla extract
1/3 cup vegetable oil
1 teaspoon distilled apple cider vinegar
for the glaze:
1/2 cup sugar
4 tablespoons margarine or vegetable shortening
2 tablespoons soy milk
1 tablespoon water
2 tablespoons unsweetened cocoa powder
1 teaspoon vanilla
Preheat oven to 350 degrees. Prepare a 12 cup muffin pan with paper liners or grease and flour the cups well.
In an medium bowl, mix together flour, sugar, cocoa, baking soda, and salt with a whisk. Make sure that all the ingredients are well blended. Add the warm water, vanilla, oil, and vinegar. Stir until well combined. Do not
overmix
.
Fill muffin cups 3/4 full with batter and bake in the centre of the oven for 15 to 20 minutes or until the cakes spring back when you lightly touch the centre. Remove from oven. After 5 minutes, carefully remove the cupcakes from the tin and let cool completely on a wire rack before icing.
Make the glaze:
In a small saucepan, bring the sugar, margarine, water, milk, and cocoa to a boil, stirring frequently. Reduce heat and simmer for 2 minutes, stirring constantly. Remove from heat, add vanilla and stir for 5 minutes.
Using a tablespoon, pour a little of the glaze over each cupcake. Add sprinkles, if desired.