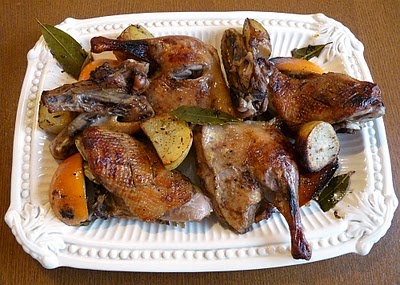 From time to time I ask my husband to read through my articles before I post them. I sometimes want a different set of eyes to look over what I have written before I send it out into the great beyond. The other day, after reading something he said, "Your blog is written for pretty advanced cooks."
I was surprised he said that, because my intention was to share recipes that are accessible to anyone. I tried to make the recipes easy and straightforward, but that was the very place where hubby felt that I was speaking to a more advanced audience. He felt the terms and instructions would not be familiar or easy to understand for a non-cook. It took my husband's "non-cooking" eyes for me to see that the recipes I have been posting may not be so accessible after all.
I forget how daunting cooking and baking can be to someone who does not cook. Yet, to my mind the only way to become a confident cook is to just do it. I have had that experience with friends who have asked for help and I have found time and again that it is the only way to become a confident chef or baker.
Julia Child was a big believer in that. She always told her audience not to be afraid of making a mess or making a mistake. She once said, "The only real stumbling block is fear of failure. In cooking you've got to have a 'What the hell?' attitude."
So I decided to have a "what the hell attitude" and make something I have never tried before. The funny thing is, as long as I have been cooking and baking there are things that I just psych myself out about and I won't try.
Roast Duck was one of those things. I don't know why, because I have made roast chicken a million times, but duck just seemed like a challenge. Most likely it is because I was not following my own advice. There is a pretty strong probability when making duck that it could turn out tough or greasy if you don't do it right and I don't like to make mistakes.
So I threw caution to the wind and I bought a duck. I found a recipe, followed it to the letter and the duck turned out…a little tough. But you know what, it was still good and next time I will do things a bit differently and I am sure it will be just right.
Roast Duck with Orange Sauce
adapted from a recipe from
Canadian Living Magazine
1 medium sized duck
1 teaspoon salt
1 teaspoon pepper
1 orange, quartered
2 bay leaves
1 onion, quartered
1/2 cup chicken stock
2 tablespoons flour
salt and pepper to taste
Glaze:
1/4 cup freshly squeezed orange juice
2 teaspoons orange-flavoured liqueur
1 teaspoon red wine vinegar
1 tablespoon granulated sugar
Preheat oven to 400 degrees. In a small bowl, whisk together the ingredients for the glaze and set aside.
With a sharp knife, cut 1 inch slices in the skin of the duck breast and legs, being careful not to cut into the flesh. Duck is very fatty and this will allow the excess fat to drain during cooking. Sprinkle the inside cavity with half of the salt and pepper and stuff with the orange quarters, onion quarters and bay leaves. Sprinkle the skin with the remaining salt and pepper.
Place the duck, breast side up, in a roasting pan fitted with a metal draining rack. Roast in 400 degree oven for 35 minutes. Pour off clear fat and baste with glaze. Return to the oven.
Turn the oven down to 350 degrees and continue to roast for about 1 1/2 hours. Baste with glaze and pan juices every 15 minutes, until thermometer inserted in thickest part of thigh reads 185°F. Overcooking the duck is what can make it tough, so begin checking the internal temperature at about 1 1/4 hours. Remove oranges, onions and bay leaves and set aside. Transfer the duck to a plate and cover loosely with foil.
Pour the pan juices into a saucepan. Skim off any fat and discard. Add the chicken stock and any remaining glaze to the saucepan. In a small cup mix the 2 tablespoons of flour with enough water to turn it into a smooth paste. Bring the pan juice mixture to a boil. While whisking, add the flour paste in and continue to stir until the gravy reaches your desired consistency. Add additional chicken stock if it becomes too thick. Season with salt and pepper to taste.
Cut the duck into pieces and place on a platter with the orange, onion and bay leaves as garnish. Serve with the gravy.
Next post:
Vegan Chocolate Cupcakes