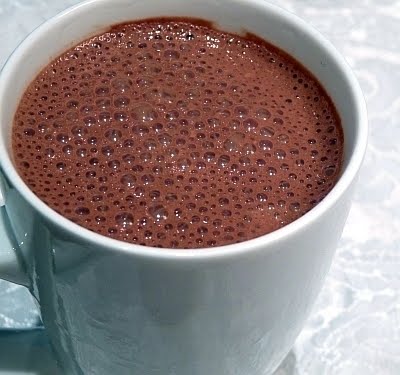 I know what you are thinking "You're doing a post about Hot Chocolate just as it's getting crazy hot outside?!" Well, I have two things to say about that. One, this drink is good hot or cold. And two, it's CHOCOLATE. Do I really need any more justification than that?
And not only is it chocolate, it is the best hot chocolate you will ever have. I mean it. After trying it you will wonder why you ever made that wimpy cocoa powder/milk version. You will wonder where this hot chocolate has been all your life. You will ask it to move in with you.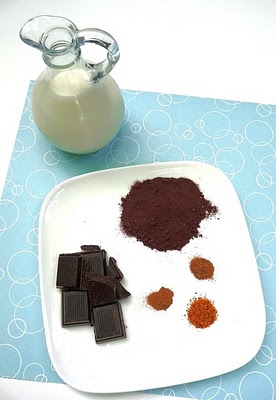 I found this recipe in Vogue magazine, of all places. I was waiting at the doctor's office some years ago and came across an article about Paris that had this recipe just hidden in part of the text. I was intrigued as the author wrote "one's first swallow should induce a long interlude of silence." I had to try it, so I did that most annoying of things, I quietly ripped the page out of the magazine (cough,
rip
, cough,
rip
).
I still have the page folded in my recipe box, even though I copied the recipe onto a card. It's the little trophy I keep for finding the best hot chocolate recipe of all time.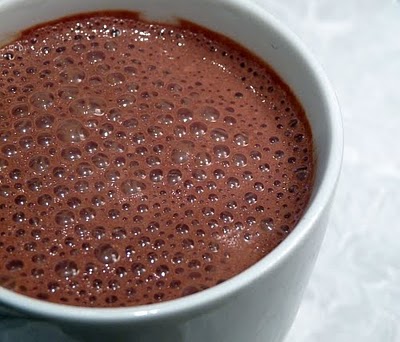 Now to be honest, it takes considerably longer to make than the aforementioned wimpy powder concoction, but it is well worth the time. In the end you will have a melting, smooth, creamy intense cup of chocolate goodness. It is like drinking a chocolate bar, a really good, dark chocolate bar.
I like to add a little heat to mine, so I add a bit of cayenne, nutmeg and cinnamon. I find it gives it a little more depth. If you don't like that then make it without and it will be just as good.
One more thing, do not skip the blender step. This is the part that takes a little time, especially if you choose to use an immersion blender, but this is also what makes the drink. It turns an excellent hot chocolate and into the sublime.
So without any further ado...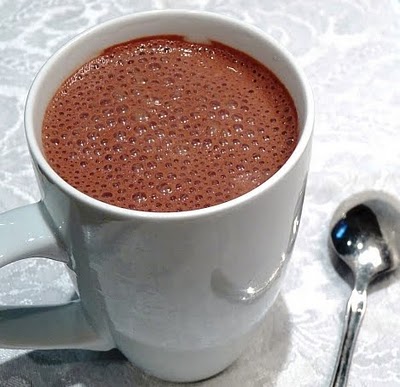 Hot Chocolate
Adapted from a recipe found in the February 2000 issue of
Vogue
. It is great hot or cold. If you want to drink it cold, place the finished chocolate in the refrigerator until cold and then blend again for 30 seconds just before drinking.
2 1/2 cups 2% milk
Generous 1/4 cup sugar
1 100-gram (3 ½ ounce) bar dark chocolate (72% cocoa minimum) chopped
1/4 cup good quality cocoa powder (I use Ghirardelli)
1/4 tsp cayenne (optional)
1/8 tsp nutmeg (optional)
1/8 tsp cinnamon (optional)
In a medium saucepan, stir together the milk, sugar, chopped chocolate and cocoa powder. If you are planning on making the spicy version, add the cayenne, nutmeg and cinnamon too. Bring to a boil over medium heat, whisking until the chocolate and cocoa are dissolved and the mixture has thickened.
Reduce heat to very low and blend for 5 minutes with an immersion blender until thick and foamy. (If you wish you can remove it from the heat and blend for 30 seconds in a standard blender.) Serve in ½ cup portions as it is very rich.
Next post:
Homemade Ice Cream Sandwiches