So here it is; the story about ice cream sandwiches that was supposed to be published earlier in the week, until it got bumped by
my last post
. However, this story is not so much about a summertime treat (although they were very good) but more about an amazing chocolate company that shows an incredible amount of integrity in how they source, produce and sell their product. Once again, this story begins at the farmer's market.
I went over to the new market at the
Evergreen

Brickworks
a couple of Saturdays ago. The
Brickworks
is an old brick factory that supplied the building material for a number of the historic sites in Toronto, including
Casa
Loma
and
Massey Hall
. The site was in a state of decay when the
Evergreen Organization
came in with a plan to revitalize the location and turn it into an "international showcase for urban sustainability and green design." Although it is not yet complete, there is already a garden centre, a beautiful park space and a vibrant farmer's market.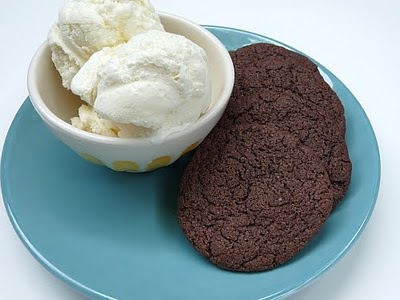 While I was touring the market I came upon Michael running the
Chocosol
booth. I had seen
Chocosol
at a number of different markets, including
Dufferin

Grove
and
The Stop
, but this was the first time I went over. Michael 's passion for his product and his ability to engage the crowd made me curious, so I decided to find out a bit more about their chocolate.
As you can tell, I am
an avid baker
and I am especially fond of chocolate, so I am very particular about the products I use. I started to speak with Michael, asking all kinds of questions about the cocoa powder and bar chocolate, quite honestly, because I was skeptical. I did not think I would find a stone-ground locally made chocolate that would rival the premium brands I have been using. But after a brief conversation he had convinced me to buy a bag of both and give them a try.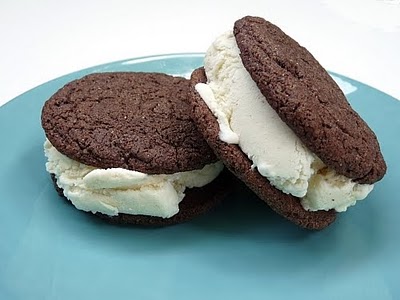 When I got home I decided to first try making something with the cocoa powder. It is a beautiful dark brown, so I wanted to find a recipe that would showcase its flavour. Then I remembered
these cookies
. The recipe calls for a ½ cup of cocoa powder, so I knew the flavour would really come through. Plus, I had a house full of kids coming over that night, and I knew turning them into ice cream sandwiches would be a hit.
The cookies turned out great. They baked up perfectly and they had the rich and intense chocolate flavour I was looking for. Since then I have made
brownies
with the bar chocolate and they turned out beautifully as well.
Tomorrow I will be back at the market. I have used up my supply and I am going to get more, plus I think I will buy a bag of their coffee as well!
Homemade Chocolate Ice Cream Sandwiches
Adapted from
Retro Desserts
, Wayne

Brachman

via
Smitten Kitchen
Makes 15 to 20 sandwich cookies
1 1/4 cups all-purpose flour
1/2 cup unsweetened Dutch process cocoa
1 teaspoon baking soda
1/4 teaspoon baking powder
1/4 teaspoon salt
1 cup sugar
1/2 cup plus 2 tablespoons room-temperature butter
1 large egg
Ice Cream flavour of your choice
Preheat oven to 375°F and move rack to the centre of the oven.
In an electric mixer, mix the flour, cocoa, baking soda and powder, salt, and sugar. On lowest speed, add the butter, and then the egg. Continue mixing until dough comes together.
Using a tablespoon or a small ice cream scooper, scoop out about 1 tablespoon of the dough. Roll into a ball and place on a baking sheet lined with parchment paper or a silicon mat.
Continue with the rest of the dough, leaving two inches of space around each ball on the cookie sheet. With slightly wet hands, lightly press down each dough ball.
Bake for 9-10 minutes. Remove cookies to a cooling rack and cool completely before making the ice cream sandwiches.
To make the ice cream sandwiches, scoop a small amount of ice cream, about a 1/4 cup portion. Try to scoop it into a tight ball. Choose two cookies of a similar size. Place the scoop of ice cream on one cookie and place the second cookie on top. Gently flatten the two cookies together with the palm of your hand until the ice cream spreads to the edge of the sandwich. Serve immediately.
Next post:
Irish Soda Bread