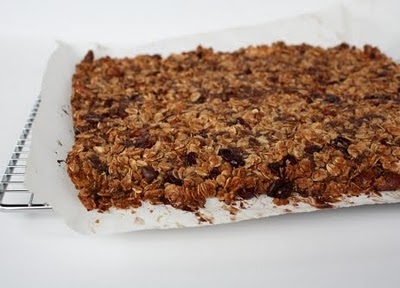 Next week is back to school and that means packing school snacks. Everyday…snacks. I'm sure I'm not the only parent who gets stressed out just thinking about doing this every day for the next 10 months. It's no easy task coming up with a healthy option while still satisfying the daily whims of a 5 year old. Sad to say, but as the summer started to draw to a close the first thing I started to think about was…"Damn, I'm going to have to start preparing snacks again." (Thank goodness I'm not at the lunch stage yet, I'm sure that's even worse.)
It will come as no surprise that I am not a big fan of the pre-made snacks available at the grocery store. I have yet to understand the appeal of cheese that you can pull apart (and all of the individual wrapping makes me nuts) and I really don't like the sugary granola bars and bear claws, etc, etc.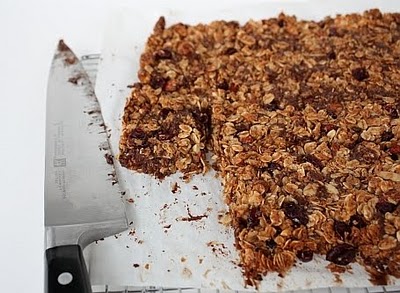 Last year I did struggle after awhile to come up with good snacks that my daughter would eat and that did not take forever to get together. She usually got some cheese and fruit or a homemade muffin or some cut up vegetables. I'd be fine for a while and then I would run out of ideas.
This year I'm back at work so I have even less time to get something together. That is why I am making an attempt to get organized up front. One of the things I did this week was make homemade granola bars. Now you may be saying, "Come on, that isn't a quick snack solution", but I promise you it is.
I can make a whole pan of them in about a half and hour and then after I cut them into bars I keep them in an airtight container in the fridge and they are good for weeks. You can make this recipe as either loose granola or you can cut it into bars. If your school does not allow nut snacks (as most don't) then just omit the nuts and add seeds such as pumpkin, sunflower and sesame. I add chocolate chips and dried cranberries to mine and the kids love them…so that's a start. Now all I have to do is come up with something for the next 8 months.
Granola Bars
Adapted from
Ina Garten
I have adapted the original recipe to suit my taste, which means I substituted maple syrup for the sugar, eliminated the oil and I added whole almonds and chocolate chips. Granola is pretty forgiving so you can change the recipe to suit your tastes as well. Have fun with it.
2 cups old-fashioned oatmeal
1 cup almonds
1 cup shredded unsweetened coconut
1/2 cup toasted wheat germ
1/2 cup maple syrup
1/2 teaspoon pure vanilla extract
1 1/2 cup dried fruit, or a mix of dried fruit, nuts, chocolate, whatever you like (I used cranberries and chocolate chips)
Preheat your oven to 350°F.
Toss the oatmeal, almonds, and coconut together on a cookie sheet and bake for 10 to 12 minutes, stirring occasionally, until lightly browned. Transfer the mixture to a large mixing bowl and stir in the wheat germ. Reduce the oven temperature to 300°F. Line your cookie sheet with parchment paper
While the mixture is still warm, stir in the maple syrup and vanilla until the mixture is well coated. Add the cranberries and toss to combine. Now add the chocolate chips and toss quickly as they will begin to melt.
Pour the mixture onto your prepared baking dish and press it down with you hand or a spatula. It may only cover half of the cookie sheet, which is fine, just make sure that the granola is pressed together well ( if you are going to make loose granola don't worry about this part).
Bake for 25 to 30 minutes, until light golden brown. Cool for 2 to 3 hours before cutting into squares.
You can store the bars in the freezer for a couple of weeks. They stay crisp this way, if you keep them at room temperature they will soften up.