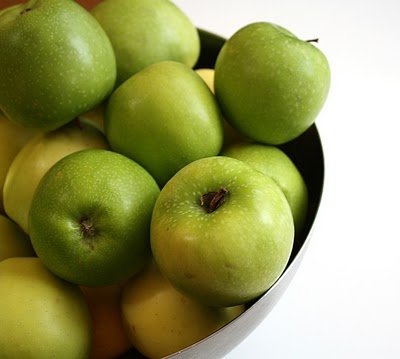 After I had my daughter I made the decision to buy organic as much as possible. It is amazing what having a baby can do to your thought process. I had always been a very particular eater, and felt I was very choosy about my purchases, but once I had a new little person depending on me I began to examine what I was eating even more closely. I suppose it is a rather sad fact of life, but the things that you put up with for yourself you would not allow for your child. And so it was that I began to demand organic food at my table, food that was not laden with chemicals, pesticides, herbicides, hormones, antibiotics, etc, etc, etc.
Now, I will be honest, organic products are not always easy to find and often they are prohibitively expensive. While choice and price has improved dramatically over the last few years there is still a long way to go. That is something that consumer pressure and the need for organic producers to be competitive will continue to improve. Until then, I think what you buy and eat becomes a matter of personal priority. I have switched entirely to organic meat(when we eat meat, which is much less that before), dairy and eggs. To me, buying organic meat, dairy and eggs has a tremendous impact on the quality of animal care, the environment and our health.
When it comes to produce, I use the
dirty dozen list
as a guide. As for the other items on my grocery list, I try to buy seasonal and organic as much as possible.
So, being a mom led me down this path and this path has led me to other great things as well. For one, I met a lovely woman by the name of Tanmayo while organizing the
FRESH Event
last year. She is the Chair of the Toronto Chapter of the Canadian Organic Growers Association. COG, as they are called, is a great resource for anyone who wants to switch to organic. They are very active with local retailers, they have workshops and gardening seminars and they provide a list of resources available in the Toronto Area.
This Saturday is their
annual conference
and I was honoured to be asked to moderate one of the panel discussions. Our panel will discuss the power of mothers to force change and improve things for the better. If you are in the Toronto area I encourage you to come down. I think it will be a very interesting and informative day.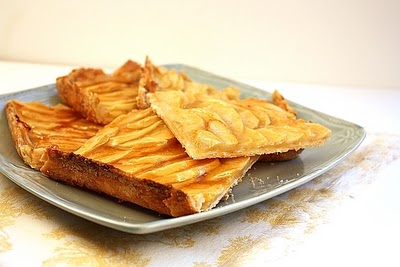 In the meantime, I have a simple and delicious French Apple Tart to share with you. I made this, of course, with organic Granny Smith apples. It is subtle and elegant; a real show stopper. I found the recipe on
Crumpets and Cakes
. It is from
the Barefoot Contessa
, which is not a surprise because Ina Garten consistently turns out amazing recipes. I am sure this will become a favourite for you as well.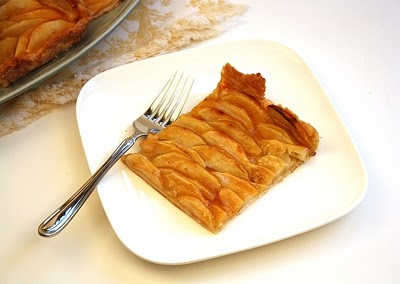 French Apple Tart
adapted from
The Barefoot Contessa, Back to Basics
6 Granny Smith apples, peeled cored and sliced thin
1/2 cup sugar
1/2 cup warm sieved apricot jam
2 tablespoons Calvados (apple brandy) or apple juice
Pastry
2 cups all-purpose flour
1/2 teaspoon kosher salt
1 tablespoon sugar
2/3 cup vegetable shortening
6 - 7 tablespoons ice water
For the pastry, place the flour, salt, and sugar in a medium bowl. Cut in the shortening with a fork or a pastry cutter until the mixture resembles coarse crumbs. Add the cold water and stir just until the dough starts to pull together. Turn out onto a well floured surface. Quickly shape into a ball wrap in plastic and refrigerate for at least 1 hour.
Preheat the oven to 400 degrees F. Line a sheet pan with parchment paper.On a well floured surface, roll the dough slightly larger than 10 by 14-inches. Place the dough on the prepared sheet pan and trim the edges. Refrigerate while you prepare the apples. Place overlapping slices of apples diagonally down the middle of the tart and continue making diagonal rows until the pastry is covered with apple slices.
Sprinkle with 1/2 cup of sugar. Bake for 45 minutes to 1 hour, until the pastry is browned and the edges of the apples start to brown. Rotate the pan once during cooking. While the tart is baking, heat the apricot jelly together with the Calvados and run through a fine sieve. Brush the apples and the pastry completely with the jelly mixture. Loosen the tart with a metal spatula so it doesn't stick to the paper. Allow to cool and serve warm or at room temperature