A Snow Day, what a treat. A chance to slow down, spend the day with my children and forget about all of the pressing responsibilities that make life feel so hectic. I always struggle with the fact that there is just never enough time so it was nice to have a day to relax and enjoy being together.
My children seemed to like the break too. You forget how hectic life can be for them as well. Childcare, school, activities, playdates. It's just go, go,go. I think once in awhile they need a little break; a chance to just be and do whatever they want.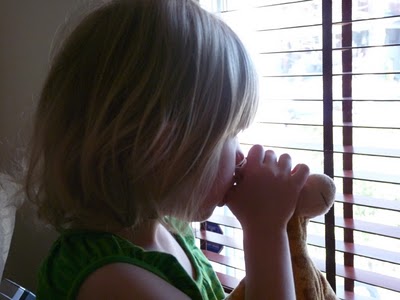 So what to do on a day like this? Well, it definitely calls for a warm bowl of stew. Curried Lamb and Chickpea Stew to be exact. Nothing could be simpler. Just a few ingredients thrown in a pot and then left to do its thing for a few hours. At the end of it you have a warm, fragrant bowl of stew and a day well spent with the people who matter most.
This recipe is an amalgam of a few different ideas. It has become a staple in the house when I want something warm and satisfying. Best of all, it requires very little effort. Serve it with crusty bread and you have the perfect end to a cold winter day. Now excuse me I am being called. We are playing "school" and I am the teacher.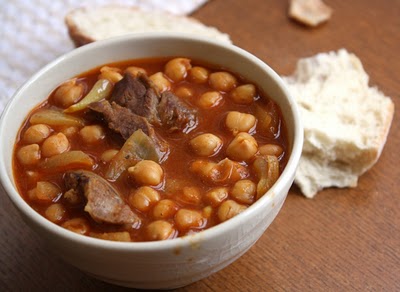 Curried Lamb and Chickpea Stew
1 1/2 lbs of stewing lamb, cut into 1 inch chunks
2 onions, peeled and chopped
2-3 garlic cloves, minced
1 tablespoon grated fresh ginger
2 tablespoons olive oil
1 medium can chickpeas
1/4 cup vindaloo paste (such as Pataks) (Vindaloo paste comes in a number of varieties from mild to hot)
3 cups beef stock
1 small can of tomato paste
2 tablespoons red wine vinegar
1 teaspoon dijon mustard
1/2 teaspoon cumin
2 bay leaves
salt and pepper to taste
In a large dutch oven, brown the meat in the olive oil over medium high heat. Add the onions, garlic and ginger. Cook a few minutes more until the onions are translucent. Add the remaining ingredients and stir to combine. Bring to a boil then reduce the heat and simmer 11/2 to 2 hours until the meat is tender and the sauce has thickened. Serve with crust bread.