Hi there, I want you to read something:
"When the girl returned, some hours later, she carried a tray, with a cup of fragrant tea steaming on it; and a plate piled up with very hot buttered toast, cut thick, very brown on both sides, with the butter running through the holes in it in great golden drops, like honey from the honeycomb. The smell of that buttered toast simply talked to Toad, and with no uncertain voice; talked of warm kitchens, of breakfasts on bright frosty mornings, of cosy parlour firesides on winter evenings, when one's ramble was over and slippered feet were propped on the fender, of the purring of contented cats, and the twitter of sleepy canaries."
Isn't that lovely. It is a passage from one of my favourite childhood stories, The Wind in the Willows

by Kenneth Grahame

. Doesn't it beautifully evoke that scene; warm tea, fresh bread and melting butter. And I know what you are thinking now, "I want toast." Me too. Lucky for you I just made some.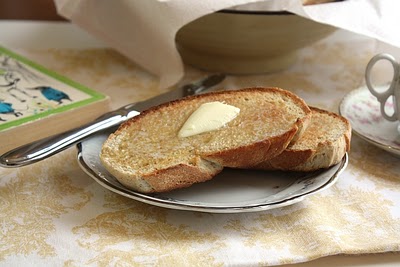 I was re-reading the book last week and when I got to that passage I immediately wanted fresh bread. Not just any bread, mind you, no flimsy slices pulled from a plastic bag but fresh, homemade bread; the kind that can stand up to a thick slathering of butter. But bread takes hours and hours to make, so what to do?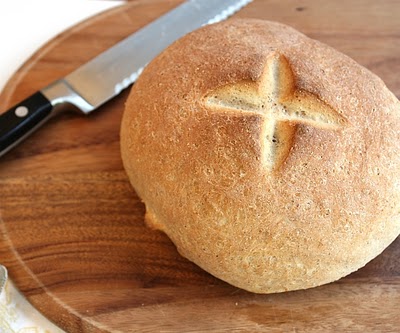 Well, as it turns out that is not always the case. I have a great recipe that makes two lovely dense loaves of bread in just over an hour. That's right, just over an hour from mixing bowl to thick slice of warm bread covered in melted butter. I came upon this recipe by accident. I was looking for a no knead recipe and I stumbled upon this Easy Bread recipe on a site called The Heart of New England. It is simple to do and turns out perfect every time. You can change it up, make white bread, brown bread, raisin bread...whatever you like.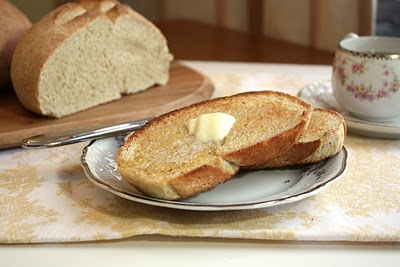 Easy bread
from
The Heart of New England
5-6 cups all-purpose flour, (I used 1 cup of whole wheat flour (Red Fife Wheat, to be exact) and all-purpose unbleached for the rest.)
2 tablespoons of dry yeast
2 tablespoons brown sugar
1 tablespoon salt
2 cups hot water (120-130 degrees F.)
A cake pan of hot water
Mix 3 cups of the flour with the yeast, sugar and salt. Pour in the hot water and beat for 100 strokes (or 3 minutes with a mixer). Stir in the remaining flour until the dough loses its stickiness. You may not need all 6 cups, just add enough flour, a cup at a time, until the dough is no longer sticky. Turn onto a well floured surface. Knead for 8 minutes.
A note about kneading: I think this is the part about making bread that intimidates a lot of people . It is quite simple, once you get the hang of it. Flatten the dough slightly by pressing down with the palm of your hand, then fold in half and push away from you with the heel of your hand. Turn the dough a quarter turn and repeat. Keep doing this for 8 minutes until the dough is smooth and elastic. Add a little flour as you knead if the dough is sticky.
Place dough in a lightly greased bowl and cover with a warm damp cloth. Let rise for 15 minutes in a warm spot (I use my oven. I turn it on for about 30 seconds and then turn it off right away, then I leave the bowl of dough in there to rise).
Punch the dough down and divide into two pieces. Shape into two round loaves and place on a greased baking sheet. Cut an "X" one-half inch deep in each of the loaves with a wet sharp knife.
Place baking sheet with loaves in the middle of a COLD oven. Place a pan of hot water on the lowest shelf(this will help to create steam in the oven which will give your bread a crisp crust). Heat the oven to 400 degrees and bake 30-40 minutes or until golden brown. You can tell your bread is done when you tap your finger on the top crust and it sounds hollow.
Remove from the oven and let cool. Slice thick, toast it or not, and spread with butter, jam or whatever you like. Enjoy