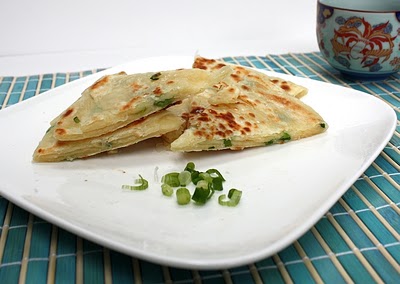 I am working on simplicity right now. Trying to pare things down so that only what is important to me is left. Sounds like a straightforward task, but, boy, simplicity is not so easy to come by. It's about shutting out the noise and all the little things that pull you in a million different directions and focusing on what matters most. So I am in the process of getting there.
You know what else; I am discovering that simplicity is a group effort. It has become a major topic of conversation between my husband and me. How to get there, what it means, what to let go of and what to keep. The good news is we seem to be on the same page (which means he will stay in the keep pile!)
And why? Well, because wonderful things can come from very simple beginnings. You keep what is best and discard what is just taking time and energy with no return. And no, I am not just talking about possessions but also about how I spend my days and what I focus on.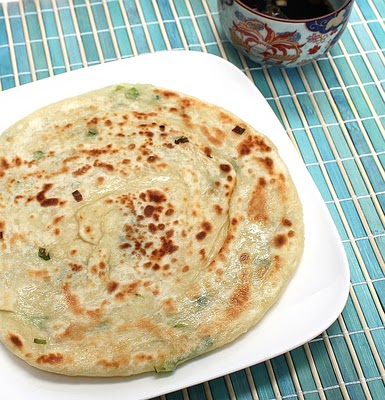 I am discovering that this is a philosophy that works well both in life and in cooking. These Scallion Pancakes are a perfect example. Crisp, delicate, salty and flavourful; these little pancakes are simplicity at its best.
I had seen a few different versions in my travels through the internet. I thought they looked interesting, but they did not every really capture my attention until I saw Ellie's beautiful looking pancakes on
Almost Bourdain
.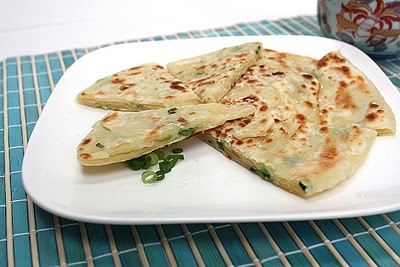 They are easy to make and take no time to cook. And in the end you have a nice little bite, perfect as a starter or a little nibble with cocktails. What more could you ask for?
Scallion Pancakes Recipe
Adapted from
Almost Bourdain
Makes 2 servings
1 3/4 cups all-purpose flour plus extra for dusting
1/2 tsp salt
1/2 cup warm water
2-3 spring onions, sliced very fine
1/4 cup vegetable oil
coarse salt
soya for dipping
Sift flour and salt into a big bowl and stir to combine. Make a well in the middle and add the warm water. Using your hands mix together to form a smooth dough. Cover with cling wrap and let it rest for 30 minutes.
Next, divide the dough into 2 equal parts.Working with one portion at a time, place the dough on a lightly floured surface. Roll out to a circle, trying to roll as thin as possible. Generously brush with vegetable oil.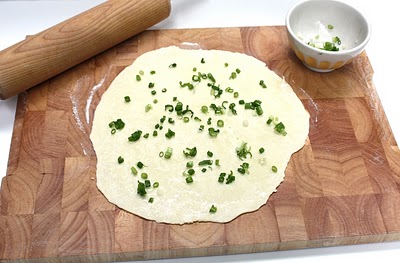 Sprinkle the dough with half of the chopped spring onion. (Ellie used just the greens from the onions but I wanted a stronger flavour, so I used some of the white part and I made sure I sliced it very fine.)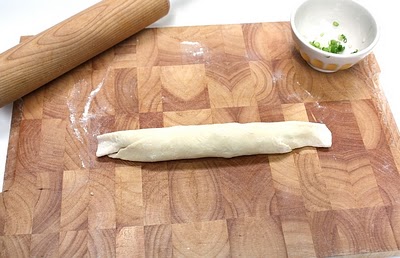 Starting with the edge closest to you, roll up the dough and pinch the ends to seal in the onion and oil.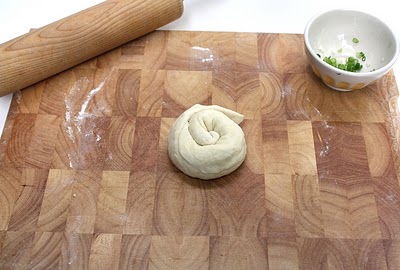 Lightly flatten and then roll it into a coil, pinching the end to seal it. Now roll out the coil into a circle.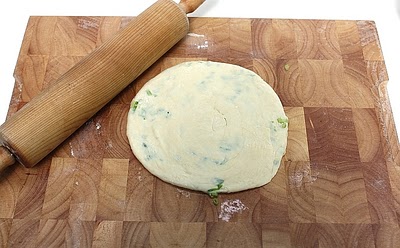 This process of rolling into a cigar shape and then wrapping into a spiral and rolling out again creates light flaky layers when you cook the pancake, so do not shortcut.
Heat a non-stick frying pan over medium heat with a tbsp of vegetable oil. Cook the pancake for 3-4 minutes on each side, turning once, until it is crisp and golden brown.
Sprinkle with a little coarse salt, cut into wedges and serve immediately. You can use a little soya for dipping if you like. Enjoy!