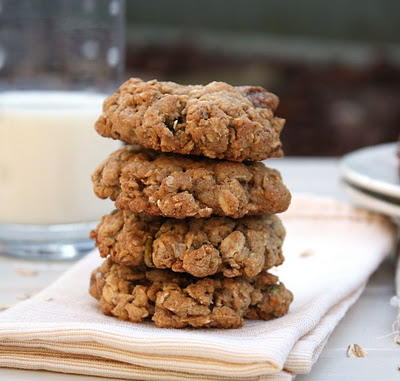 This is something I whipped up last week. I was in the kitchen getting lunch ready for my little one when I all of a sudden had the urge to make Oatmeal Cookies. Yes, that really does happen to me. I will be carrying on like normal, going about my day and BANG I am overpowered by some kind of culinary craving. I don't know what set me off this time but I all of a sudden I needed a warm Oatmeal Cookie.
Let me be clear though, I did not want just any Oatmeal Cookie, I wanted something little out of the ordinary. I needed a cookie with a little spice and a hint of the exotic. I needed an Oatmeal Cookie that would capture the best flavours of this holiday season.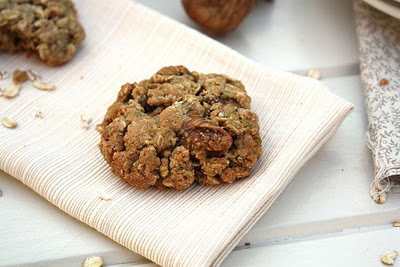 And so I ended up rooting through my pantry, trying to design a combination that will satisfy my craving. I started with the familiar; comforting oatmeal, rich brown sugar and a touch of whole wheat flour for a hint of nutty flavour as the base.
Then I began to layer in the more exotic flavours. For texture and intense sweetness I added dried figs and paired them with buttery pistachios. Next, I added cinnamon, ground coriander seed and a bit of orange zest. In the end I was quite happy with the result. The cookies were chewy and soft, just as a proper Oatmeal Cookie should be and the combination of flavours seemed perfect for the Holiday Season. Better yet, my eldest daughter said they were the best cookies ever and she was really glad I am her mom! So happy I listened to my cravings!
Fig Pistachio Oatmeal Cookies
Prep time: 10 minutes
Cook time:
10 minutes
Ingredients
1 1/2 cups

all purpose flour

1/2 cup whole wheat flour

1 1/2 cups

rolled oats

1 cup

butter

1 1/3 cup

brown sugar

1/2 teaspoon

baking soda

1/4 teaspoon

salt

1/2 teaspoon

ground cinnamon

1/4 teaspoon

ground coriander

2

eggs

2 teaspoons

pure vanilla extract

1 teaspoon

orange zest

1 cup

chopped dried figs

3/4 cups

shelled, salted pistachios
Cooking Directions
Preheat oven to 375 degrees.

In a medium bowl or in a stand mixer, cream together sugar and butter. Add eggs, orange zest and vanilla and mix until combined.

In a separate small bowl mix together all the dry ingredients including the spices. Add to the butter, sugar and egg mixture. Mix until well combined. Stir in the chopped figs and pistachios.

Scoop about one heaping tablespoon of batter per cookie. Roll slightly and place on a cookie sheet lined with parchment or a Silpat sheet. Flatten the dough a bit with the tines of a fork. Leave about 2 inches of space between each cookie on the cookie sheet.

Bake in the centre of the oven for 10 - 12 minutes or until the centres are just set and the edges are brown.

Remove the cookies to a cooling rack. Let them cool as long as you can and then enjoy!