Come Christmas Eve we will leave a plate of cookies out for Santa. Now, I 'm sure this isn't a revelation to you. Everyone knows that Santa likes a little snack after he has filled the stockings. So I am quite sure this ritual will be happening all over town.
But that doesn't mean we can't stop to talk about this a minute. Because I've thought a lot about it. Look, you're busy, Santa's busy. I get it, we need to keep this simple. Plus, he has so many houses to visit, I think it is best to keep it light. He doesn't want to be weighed down, over-stuffed by the end of the evening. He just needs a quick bite, a bit of milk and he's on his way.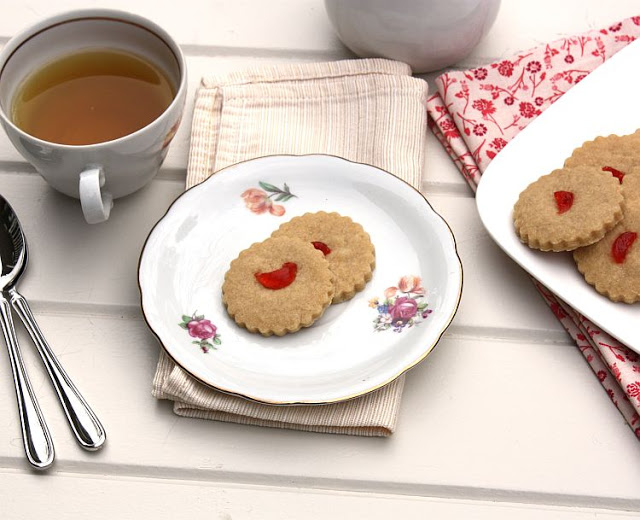 So for me, that means Shortbread Cookies. They look gorgeous, pale golden brown with a splash of red. Crisp, buttery and delicious in their simplicity. They are a classic, just like Christmas on a plate.
These are traditional Scottish Shortbreads. No corn starch, no icing sugar; they are the real deal. Just three ingredients: butter, brown sugar, flour and that's it. You can press the dough into a shallow dish to bake and cut into squares or you can roll it out, as I did, and cut them into whatever shape you like. Add a bit of glace cherries for colour and you have cookie perfection.
Trust me. Santa will love you for it. You might even find a little extra in your stocking this year! (And don't forget to leave a little something out for his reindeer.)
Shortbread Cookies
Prep time:
10 minutes
Cook time:
10 minutes
Total time:
20 minutes
Yield:
2 dozen cookies
Ingredients
2 1/2 cups all purpose

flour

1 cup

room temperature butter

1/2 cup

brown sugar
Cooking Directions
Preheat the oven to 300 degrees.
In a medium bowl, cream the butter and sugar. Add the flour and mix well until incorporated into a dry stiff dough. It is easier to do this in a stand mixer as the dough takes a bit of mixing to come together, but it is more than possible to do by hand, it just takes a bit of elbow grease.
If you want to bake into squares press the dough into a 9 inch square cake pan lined with parchment. You can score the top or prick with a fork in a decorative patter. Bake 20 -25 minutes until light golden and just set in the middle. Remove from the oven and turn the cookie sheet out once cooled. Cut into squares.
If you are cutting the dough into shapes, dust a clean cooking surface with flour. Form the dough into a ball and roll out to a 1/4 inch thickness. The dough is dry so it will crack when you roll it, don't worry, just press it back together and keep going.
Cut with your favourite cookie cutter and decorate with glace cherries or silver dragees. Transfer to a cookie sheet, keeping cookies an inch apart.
Bake in the centre of the oven for 10 - 12 minutes or until the edges are golden. Remove, cool and enjoy!