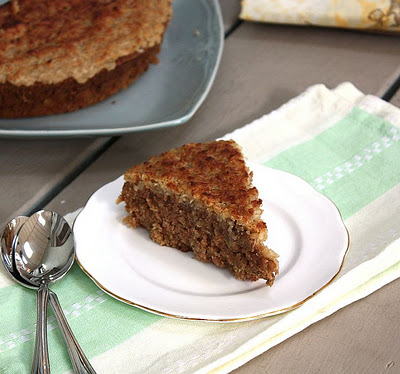 This is a story about a cake. It is also a story about family and memory and love.
I often mention my Grandfather. He had a tremendous influence on me. Memories of the time I spent with him, working in his bakeshop, listening to his stories, watching and learning, are a touchstone in my life. But today, this story is about my Grandmother.
When I think of her I think of early weekend mornings, lying in bed listening to the sounds of pots and pans, cupboard doors being opened and banging closed, as she began the task of making breakfast for a house full of people. I would stay there, under the covers, waiting for the the smell of bacon and toast and coffee to reach me. Going downstairs I would find a table laden with warm sweet buns from the shop, eggs with homemade chili sauce, bacon, sausage and buttered toast just waiting for her homemade jam.
I think of coming in the back door and being careful, as I removed my coat and shoes, to avoid the large earthenware pot that sat in the back cupboard and contained cucumbers and onions from her garden. They sat immersed in the sweet brine that would slowly turn them into the bread and butter pickles I loved so much.
I think of wanting a snack and going downstairs to fetch a jar of her pickled beets, or spicy dills, or pickled beans from the cold room. I think of the marigolds she loved at the front of her house, of the fact that she always had chocolate hidden in the sideboard among the good dishes.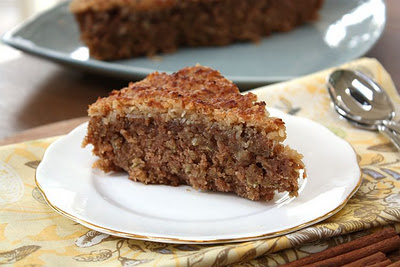 And I think of this cake. This is the first recipe I ever got from my Grandmother. I can't make it without thinking of the afternoon I first had it at her house. We were alone, which was a rare treat, and we sat at the table and talked and enjoyed this cake. It's a simple memory but for some reason that moment stayed with me and I often think of that afternoon, that quiet time with my Grandmother and that talk.
So now this cake is my husband's favourite and it is what he has on his birthday every year. It is also one of the first cakes I made with my children and it is special to me for those reasons as well. And maybe one day, when my children think back to times spent with me they will think of these memories, of their father's birthdays and of helping me in the kitchen.

Spice Cake

Prep time:

15 minutes
Ingredients
1 cup

oatmeal

1 1/2 cup

boiling water

1 cup room temperature

butter

1 cup

granulated sugar

1 cup

brown sugar

2

eggs, beaten

1/2 cup all purpose

flour

1 teaspoon baking

soda

1 teaspoon

cinnamon

1 teaspoon

vanilla

1/2 teaspoon

salt
Topping
6 tablespoons

butter

1/2 cup

brown sugar

1 cup

unsweetened shredded coconut

1/2 cup

chopped pecans

3 tablespoons

sweetened condensed milk

1 teaspoon

vanilla
Cooking Directions
Preheat oven to 350 degrees. Butter a 9 inch cake or springform pan and line with parchment.
In a small bowl, combine oatmeal and boiling water. Set aside to cool.
In a medium bowl cream together the butter and sugars. Add the eggs and mix until combined. Stir in the vanilla.
Place the dry ingredients in a second medium bowl and whisk until they are well combined. Alternate adding the cooled oatmeal mixture and the dry ingredients into the butter, sugar and egg mixture. Add half of each starting with the oatmeal and ending with the dry ingredients. Repeat until all ingredients are incorporated. Mix until just combined.
Pour the batter into the prepared pan and bake in the centre of the oven for 45 - 55 minutes or until a toothpick inserted near the centre of the cake come out with a few moist crumbs.
Meanwhile, in a small bowl, combine all of the ingredients for the topping. Spread over the top of the cake while still warm. Place under the broiler for 3 - 5 minutes watching closely that the top is browned and not burnt.
Let the cake cool. If you have used a springform pan, loosen the sides with a knife and remove the collar before serving. If not, serve from the cake pan. (this is the reason for the parchment, it will make serving the cake easier. Enjoy!