Okay, so it's been awhile. I have been mulling it over...do I just jump right in and give a new recipe (like I never went away) or do I do the big song and dance, explain why it has taken me about three months to write a post and hope some of you are still out there waiting to read my next entry. (If I do then I risk joining the ranks of all those blogger who end up on
this site
.)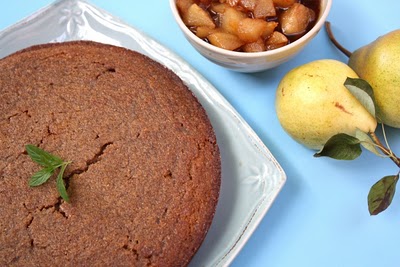 Anyway, here goes. I have a million excuses, reasons, explanations for my long absence, but the truth is I just wasn't sure I wanted to keep going. I started to feel like I was not able to balance this project with the myriad of other things I do and, being the driven, perfectionist type (read type A) person that I am, I think I was expecting to accomplish too much from this little "fun" project that I had taken on.
So here I am back, and hopefully with a little less pressure on my self to publish twice a week...have every picture I take accepted on
Tastespotting
and
Foodgawker
...have over a thousand hits a day...blah, blah, blah. Let's just have a little fun here shall we? I can't promise my posts will be every couple of days as they were before, but I am going to keep at it, sharing my thoughts, favourite local resources and, of course, recipes.
And by the way, thank you very much to the people who have (had) been reading and who so kindly said they wanted me to get back at it. It took me a while, but I do appreciate the encouragement and enthusiasm.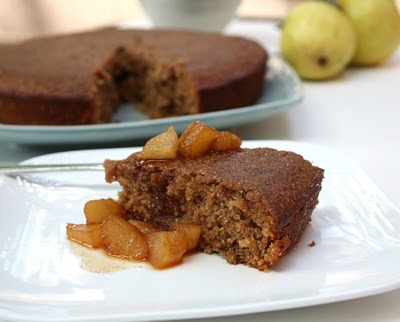 Okay, enough navel gazing. Do you see that picture at the top of the page. I love it. That is my beautiful daughter and that picture is the inspiration for this recipe. She is holding a gorgeous organic pear. I had seen this recipe for Cinnamon Cake in the Fall 2010 issue of the
LCBO's Food and Drink Magazine
. It looked lovely, but as I had no apples on hand I used pears instead. (I also added a bit of rum, because
as some of you may remember
, I have a fondness for adding alcohol to my recipes.) The cake is moist and lightly flavoured with cinnamon. Served warm with the compote it is absolutely delicious. I hope you enjoy it, and by the way, it is good to be back!
Cinnamon Cake with Warm Pear Compote
adapted from the Fall 2010 issue of
Food and Drink
1 1/2 cups all purpose flour
2 tsp of ground cinnamon or ginger
1 tsp baking powder
1/2 tsp baking soda
1/2 tsp salt
1/2 cup of butter, softened
1 cup packed brown sugar
1 egg
2 tsp vanilla
1 cup sour cream or plain yogurt
Glaze
2 tbsp packed brown sugar
Pinch of ground cinnamon
2 tbsp of amber rum
Warm Pear Compote
4 large firm Bartlett pears, peeled and diced
1/4 cup packed brown sugar
1/4 tsp ground cinnamon
Pinch of ground cardamom or ginger
Juice of 1 lemon
1/2 tsp vanilla
Directions:
Preheat oven to 350 F. Grease the sides of a 9-inch cake pan and line the bottom with parchment paper.
Combine flour, cinnamon, baking powder, baking soda and salt in a bowl. In a stand mixer using the paddle attachment, beat butter and sugar until fluffy. Beat in egg and vanilla until blended. Stir in flour mixture alternately with sour cream, making 3 additions of flour and 2 of sour cream. Spread into prepared pan, smoothing top.
Bake for 45 minutes, or until tester inserted in the center comes out clean. Let cool for 5 minutes, loose the sides and turn cake out onto a cooling rack. In a small bowl, combine the sugar, cinnamon and rum. Stir to dissolve sugar and then brush over the top and sides of the warm cake.
Meanwhile, prepare the pear compote. Combine diced pears, sugar, cinnamon, cardamom and lemon juice in a saucepan. Bring to a simmer over medium heat, stirring occasionally. Cover, reduce heat to medium-low and simmer, stirring often, for about 5 minutes or until pears are tender but still keep their shape. Remove from heat and stir in vanilla. Serve warm with slices of cake and dollop of whip cream.