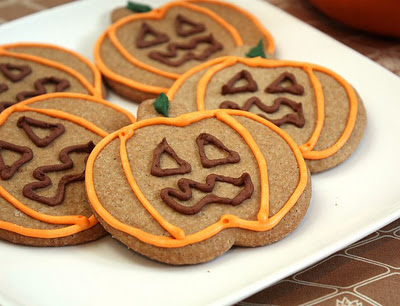 I have very fond childhood memories of Halloween. Nothing, save Christmas morning, could compare with the excitement of Halloween night. Rushing home from school, carving the pumpkin, a quick dinner then getting outfitted in my costume and heading out collection bag (and
UNICEF
box) in hand.
I loved dressing-up and pretending I was someone else. I loved the excitement, the thrill of being out in the night, in the dark. My mother was a big believer in the do-it-yourself costume which, I think, added a lot to the experience. I could become anyone with a little imagination and a few carefully chosen odds and ends. I vividly remember putting together an endless number of costumes from old clothes, sheets, make-up and whatever else I could find around the house.
As an adult, however, Halloween became less important. It was just another day. Then...I had kids of my own and now, happily, the excitement is back. We are putting together costumes, decorating the house, picking out pumpkins and generally immersing ourselves in the thrill of Halloween night.
So when I discovered that my children's new school has an annual Fright Night Fundraiser, I was determined to get right in there and help with this year's event. Which meant, of course, that I would bust my butt making a ton of cookies for the Witches' Kitchen Bake Sale ( i.e. 6 dozen Halloween themed Gingerbread Cookies!)
My husband's great mantra for me is always, "don't overdo it!". Unfortunately, I never listen. At 7:00am the morning of the event I am donning my apron (I want the cookies to be as fresh as possible) and by 2:00pm my hand has cramped up, I am swearing like a sailor (...in my head) and laying cookies out to dry...with 3 hours to spare. GD! why do I do that to myself.
Oh well, it was good fun and the kids were "bouncing off the wall" excited by the time we were getting into our costumes and heading over to the school and the cookies sold like hotcakes.
Phew, we haven't even made it to Halloween yet! I've got to pace myself.

Gingerbread Cookies
This is my Grandfather's recipe and it is a staple in our house around the Holidays. It makes a nice mild gingerbread and, though I am biased, I think it is the best Gingerbread Cookie recipe I have ever tasted!


Prep time:
15 minutes
Ingredients
1 tablespoon

molasses

1 cup

brown sugar

1/2 cup

granulated sugar

1/4 teaspoon

salt

1/4 teaspoon

ground cloves

2 teaspoons

ground ginger

2 teaspoons

cinnamon

1/2 teaspoon

allspice

1 teaspoon

baking soda

1/2 cup

butter

2

eggs

2 cups

all purpose flour, plus more for rolling
Cooking Directions
Preheat the oven to 350 degrees.
Using a stand mixer (with the paddle attachment) or hand mixer, cream together the sugars, molasses and butter, about 1 -2 minutes. Add the eggs, one at a time, and mix just until incorporated.
In a separate small bowl whisk together the dry ingredients until combined. Add the mixed dry ingredients to the butter, egg and sugar mixture. Beat until all ingredients are incorporated and come together into a stiff cookie dough.
Taking about half of the cookie dough at a time, roll out to 1/4 inch thickness on a well floured surface.
Initially the dough is very sticky and soft so you will have to add a generous amount of flour to keep it from sticking to your surface. However, this dough is very forgiving and the cookies will not suffer from the addition of a little extra flour.
Cut the dough into desired shapes with your cookie cutters and transfer to a cookie sheet lined with greased parchment paper or a Silpat sheet. Continue until all of the dough has been cut out into shapes.
Bake in the centre of the oven for 8-10 minutes or just until golden brown.
Transfer cookies to a cooling rack. Wait until the cookies are completely cool before icing. Decorate with Royal Icing. Enjoy!
Royal Icing
Ingredients
2

egg whites (if your do not like using raw eggs you can use meringue powder)

2 cups

icing sugar

pinch

salt

food colouring
Directions
Whisk the egg whites, icing sugar and salt together in a small bowl. The mixture should be smooth and thick but still loose enough that it will flow through an icing tip.
Separate into a couple of bowls (depending on how many colours you want to use) and add your food colouring.
Decorate cookies as desired. You can use a pastry bag with a writing tip or a small zip lock bag (with a very small hole cut in one corner) to make thin outlines similar to the ones pictured above.