If you are like me it is now day four of "what do I do with all the turkey leftovers". I was the host this year for Christmas Dinner. My parents, my sisters and their children all gathered at our new home in Hamilton for the "roast beast". I enjoy playing host, so I was excited to have everyone here.
In honour of the occasion I ordered a lovely 17 lb turkey from Julia's Poultry and Eggs at the
Hamilton Farmer's Market
. It was perfect, antibiotic and hormone free, locally grown and delicious. However, despite everyone's best efforts, we were still left with an enormous amount of leftover turkey (as well as mashed potatoes, sweet potatoes, stuffing, etc, etc).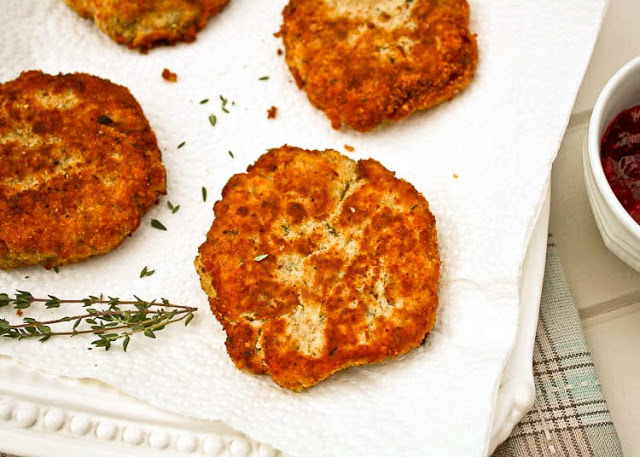 So, what to do with all of this food now that there is just the four of us to finish it off? Honestly, I was not in the mood for stew and I am NOT a fan of Turkey Tetrazzini. On the first night we did Hot Turkey Sandwiches, which is just some of the leftover turkey simmered in the leftover gravy and served over a slice of toast. It was delicious, but did not completely solve the leftover dilemma as I was still left with a good pound of turkey.
A quick search led me to the idea of making Turkey Croquettes. I wanted something easy and a little different from the norm. Plus, I was able to use up some of the other leftovers in the recipe, so it was a great solution. The croquettes were lovely. Moist on the inside with a nice crisp outer coating of breadcrumbs. Served with cranberry sauce and a few steamed green beans it was a perfect light dinner.
This recipe would work well with any number of substitutions. You could use leftover
roast chicken
,
duck
or pork or try it with salmon or shrimp. I would just change the seasoning to suit the meat, like rosemary for the pork or dill for salmon or shrimp. I would also not use sweet potatoes with fish (but that's just me). The possibilities are endless.
Now, if I could only figure out what to do with the rest of the turkey...hmm, maybe a curry.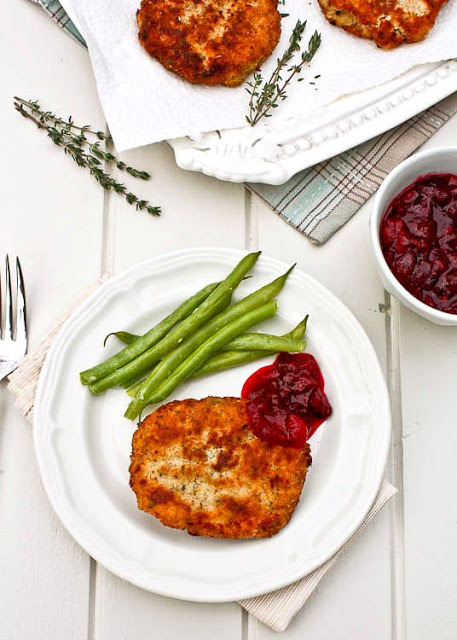 Turkey Croquettes
Ingredients
2 cups

finely diced or shredded cooked turkey

1 medium

onion, finely diced

2 tablespoons

olive oil

1 teaspoon

dried thyme (or 2 teaspoons of fresh)

1 teaspoon

chopped fresh sage

1/4 cup

half and half cream

1 teaspoon

kosher salt

1 teaspoon

freshly ground pepper

1 cup

leftover mashed potatoes

1/2 cup

leftover mashed sweet potato

1

egg

1/4 cup

all purpose flour

1 1/2 cups

breadcrumbs, season with salt and pepper to taste

vegetable oil for frying
Cooking Directions
In a large skillet over medium-high heat saute the onions in the 2 tablespoons of olive oil. Cook for 2 - 3 minutes or until the onions are translucent. Stir in the herbs and salt and pepper and cook for 1 minute more. Stir in the turkey and cream, and cook until liquid evaporates, about 1 minute.
Transfer to a large bowl, and let cool for 15 minutes. Add the potatoes, flour, and egg and stir until combined.
Take about 2 tablespoons of the turkey mixture and gently work it into a flat disk with your hands. Coat with the breadcrumbs and arrange, in a single layer, on a platter or baking sheet. Refrigerate for about 10 minutes.
Heat 1/4 inch of oil in a deep skillet over medium heat. Working in batches, (about 2 - 3 croquettes at a time) cook croquettes in a single layer until golden brown, about 2 minutes per side.
Transfer to paper towels to drain. Serve immediately.