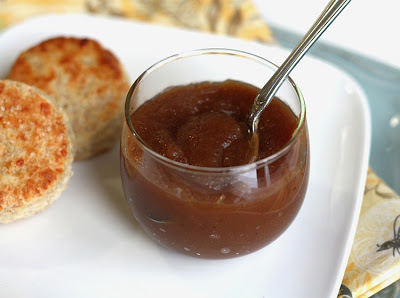 We go through a lot of apples in my house. I buy at least a couple of bags a week, for snacks, lunches or anytime my girls need something to munch on. They love apples. And of course, I use them in
pies
,
tarts
, cakes, even
salad
. I didn't think there was anything left to do with an apple.
Not so. Apple Butter. I tell you, I don't know why the h--- I didn't make it before. I am addicted. And what a good way to use up apples that have gotten bruised or a little past their prime, because despite all good intention I always end up with quite a few of those.
It could not be simpler to make. You don't even have to peel or core the apples. Just give them a good wash, cut them in quarters and into a saucepan they go. About 45 minutes later you have Apple Butter.
So what do you do with it? Well, it is perfect with bread and butter, as a sauce over cake or on ice cream. Your only problem will be trying to keep everyone from eating it right out of the saucepan. I was able to hold my crew back long enough to make Cheddar Biscuits. I made my
favourite biscuit recipe
and added a handful of a sharp Cheddar Cheese. It was a great combination. Now, if you excuse me, I have some more Apple Butter to make!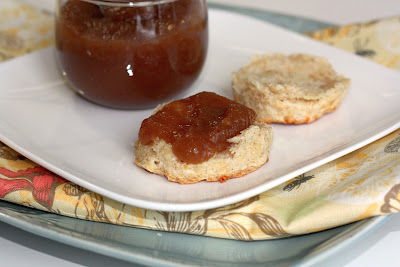 Prep time:
5 minutes
Cook time:
45 minutes
Total time:
1 hour
Yield:
2 cups
Ingredients
10

apples, washed and cut in quarters

1 cup

brown sugar

1/2 cup

apple cider

1/4 teaspoon

ground cinnamon

1/4 teaspoon

ground nutmeg

1/4 teaspoon

ground allspice

1/8 teaspoon

ground cloves

1/4 teaspoon

salt

1 teaspoon

vanilla extract
Cooking Directions
Place all ingredients into a large saucepan and cook over medium-high heat until apples break down and become very soft.
Working in batches strain the mixture through a fine sieve to remove the skins and seeds. Return to the saucepan and continue to simmer until most of the liquid has evaporated and the sauce is very thick and dark brown.
Allow to cool and serve on bread, over ice cream or anyway you like.
It can keep for up to a month in the fridge, if it lasts that long.