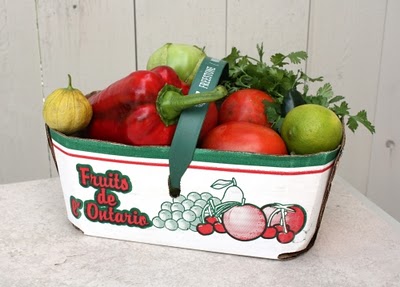 Look at that picture. Doesn't that just look like the height of harvest season. Gorgeous fresh tomatoes, pepper, herbs...just calling out to be turned into salsa. At the farmer's market in Campbellford there is a gentleman that sells these baskets with his own homemade salsa recipe tucked inside. We buy one every once in a while and make a great big bowl of salsa.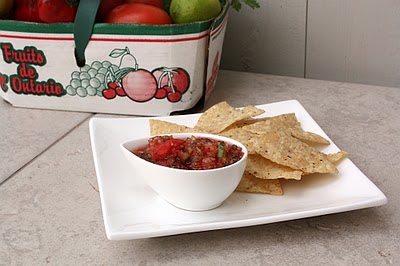 Once you make your own you will never want to go back to a jarred version. It is just so much fresher and open to so many possibilities. The basket we picked up last time had plenty of tomatillos, which is a nice change. They add a sour note to the sweetness of the tomatoes. I always ask to switch in parsley for the coriander (I personally think that coriander should be outlawed...blech) And, as an alternative, a few more times around in the food processor and your fresh salsa becomes a lovely gazpacho. Add a few chunks of English cucumber and chopped tomato for garnish and you have a quick and delicious light lunch. Either way, it is a great way to enjoy the best of the season.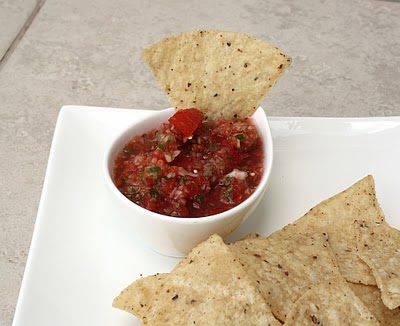 Homemade Salsa
3 cups tomatoes, chopped finely
1 cup tomatillo, finely chopped
1/2 cup onions, coarsely chopped
1/4 cup green pepper, coarsely chopped
1/4 cup red pepper, coarsely chopped
6 -7 cloves garlic, finely chopped
fresh jalapeno pepper, finely chopped (add as much as suits your taste)
1/4 cup coriander or flat parsley, finely chopped
2/3 cup red wine vinegar
1 tablespoon salt
1 teaspoon white (or black) pepper
You can chop all of the vegetables by hand or in a food processor. I use a food processor, but I also hand chop about 1 cup of the tomatoes and 1/2 cup of the tomatillos as I like my salsa to be more chunky.
If you use the food processor, first add the garlic and jalapeno. (I started with just a 1/4 of the jalapeno as my kids don't like it too spicy) Pulse until they are finely chopped. Then add the onions and pulse a couple of times. Add the tomatoes, tomatillos and parsley (or coriander) last so that they do not get too finely pureed.
Pour the mixture into a bowl and add the remaining ingredients. Stir to combine. Adjust the seasoning to your taste. Serve with chips, pita or over grilled fish or chicken.
As an alternative, you can add 1/2 an English cucumber and puree until smooth and serve chilled as gazpacho.