I have a ridiculously long list of recipes I want to try. I think I must bookmark at least one a day and yet some of them never seem to get made. They just don't light a spark in me, even though I like the look of them.
But this recipe was different. I saw it a couple of months ago and right away I new I had to try it. I bought blueberries at least half a dozen times with the intention of making it, but somehow something always seemed to get in the way.
But I couldn't stop thinking about it. I don't know what made it stick with me. Maybe it was because
Andrea's pictures
looked so good and maybe it was because I liked the thought of blueberries and Cassis, but either way it stayed with me.
Then last week, my parents came for a visit and I knew that my moment had arrived. My mom loves pie and having 2 extra people around to help me eat it (more like save me from eating it all) cinched the deal.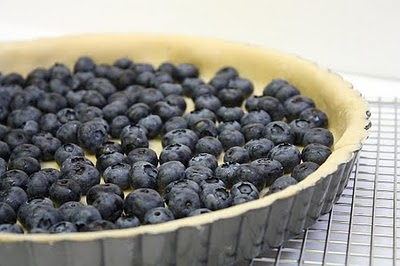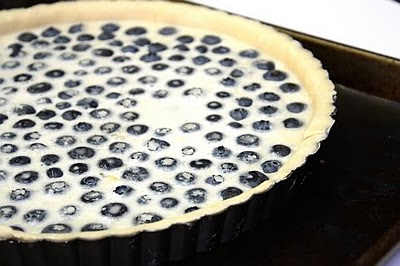 It turned out to be a lot like the
Rhubarb Cream Pie
I made on Mother's Day. The pâte brisée recipe was amazing. It came together so easily and made a lovely flaky, crisp crust. The filling was delicious, not too sweet with an intense blueberry flavour and just a hint of the Cassis. My mom loved it, I loved it, in fact everyone loved it. Now I just have to get to the rest of those recipes!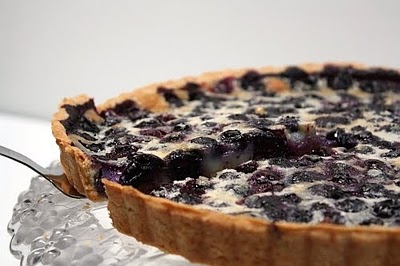 Blueberry Custard Tart
Adapted from Joanne Harris and Fran Warde's
My French Kitchen

via
Cooking Books
Pastry:
1 3/4 cups flour
3/4 cup chilled butter, cubed
1 tablespoon sugar
1 large egg
1/2 tablespoon cold water
Filling:
1 lb blueberries, washed and picked over
3/4 cup heavy cream
2/3 cup sugar
2 large eggs
3 tablespoons flour
1 tablespoon Cassis
In a food processor, pulse the flour and butter cubes for about 15 seconds, until the mixture reaches the consistency of coarse crumbs. Add the eggs, sugar and water, and process again until the mixture starts to come together. This should take no more than 30 seconds.
Turn the dough out onto a lightly floured surface and quickly shape together into a ball. Wrap it in plastic or wax paper and let it rest in the refrigerator for about a half an hour.
After the half hour, roll out the dough on your floured surface and fit into a 9 inch tart pan with a removeable bottom. You should roll out the dough so that it is thin enough that it will overhang the edge of your tart pan, about an 1/8 of an inch thick. Then cut off the excess by rolling your rollingpin over the top edge of the pan.
Preheat the oven to 400 degrees F. In a medium bowl, mix together the cream, sugar, eggs, flour and liqueur until the mixture is smooth. Sprinkle the washed and dried blueberries over the prepared crust. Pour the cream mixture over the berries. Lightly sprinkle the top with a bit of extra sugar. This will help the top brown during baking.
Bake for 35 minutes, until the crust is fully cooked and the cream is set. Allow to cool before serving.