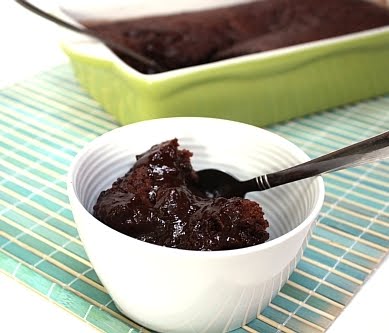 Sometimes you need dessert and you need it fast. Last night I was in need of something chocolate, stat. When I am craving a fast chocolate fix I usually think of two things. The first is ice cream with
chocolate sauce
(that is an "in case of emergency break glass" kind of quick dessert) and the other is Chocolate Pudding Cake.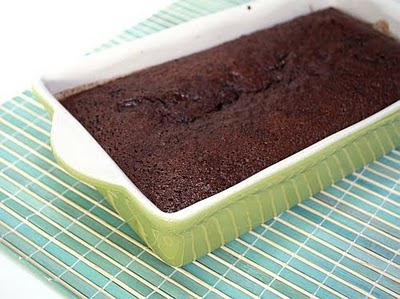 If you have never tried Chocolate Pudding Cake, then I strongly suggest you do, soon. There are many different recipes out there and they all perform the miracle of making a chocolate cake that is already bathed in its own chocolate fudge sauce. Eat it warm out of the oven and life doesn't get much better than that.
This was my mother's quick chocolate go-to dessert and I think it is one of the first recipes I actually made by myself. I remember her making it as a mid-week treat. It is ridiculously easy but infinitely satisfying, mostly because it feels like you have performed magic when it is done…warm fudgey brownie-like cake on the top and melting chocolate sauce on the bottom. It takes a little more time than chocolate sauce, but it is worth it.
I found this recipe at
Sunday Night Dinners
. The recipe I had been using was from the
Better Homes and Gardens Cookbook

. It is a good recipe but I wanted to up the chocolate quotient a little bit, so I decided to try this new recipe. It was perfect and I think it will be the one I use from now on. The addition of the chocolate chunks really put it over the top. Give it a try the next time you need something quick.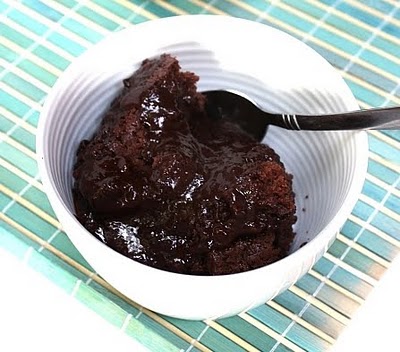 Chocolate Pudding Cake
adapted from
Sunday Night Dinners
. I add a little coffee to most chocolate desserts as it helps to bring out the chocolate flavour. Feel free to omit it if you don't want it.
1 cup all-purpose flour
2/3 cup unsweetened cocoa powder
1/2 teaspoon baking powder
1 teaspoon instant coffee
3/4 teaspoon salt
2 large eggs
1 cup sugar
3/4 cup milk
4 tablespoons butter, melted and cooled
2 teaspoons pure vanilla extract
3/4 cup firmly packed brown sugar
1 1/2 cups boiling water
1/2 cup bittersweet chocolate, broken into small chunks
Preheat oven to 350° F. In a medium bowl, sift together flour, 1/3 cup of the cocoa powder, baking powder, instant coffee and salt. Set aside.
In a small bowl, whisk together eggs, sugar, milk, melted butter, and vanilla. Add to flour mixture and stir until just combined. Spread batter a 8 inch baking dish. Set aside.
In a medium bowl, whisk together remaining 1/3 cup cocoa powder, brown sugar, and boiling water. Pour evenly over batter. DO NOT MIX. Scatter choclate chunks over the batter. Bake until a tooth pick inserted into the center of the cake comes out clean, about 30 to 35 minutes. Let cool 10 minutes. Serve warm as is or add vanilla ice cream or whipped cream.