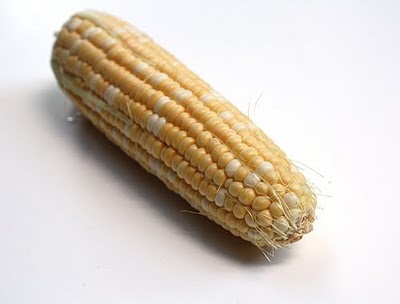 I know what you are saying. "Corn Chowder in the middle of summer, are you mad?" Well maybe, but this is the one soup I always make in the summertime. Sure it is hot as Hades, but what better time is there to make corn chowder than when Ontario corn is fresh and sweet and just perfect? I can't think of a better time, so there you have it…Corn Chowder, or to be more specific Corn and Blue Cheese Chowder!
This is another
Barefoot Contessa

recipe. You just can't go wrong with an Ina Garten recipe as far as I'm concerned. She always seems to know how to make the best of simple ingredients. And I love watching her show too. She always says "what could be wrong with that?" as she throws a pound of butter or a couple of cups of cream into her recipes. It always makes me laugh.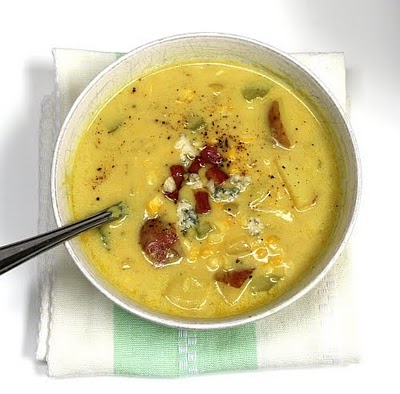 Anyway, I watched her make this recipe a few years ago and decided I had to make it right away. Since that time it has been a staple in my kitchen. As soon as the local corn is ready it magically appears at our table. And good thing, because my kids can't get enough of it. We had it for lunch yesterday and they each had three bowls, no kidding…three bowls.
I did change up her recipe a little bit though. I was out of my old cheddar, so I decided to substitute in a bit of blue cheese and some medium cheddar (just to cut the sharpness of the blue). I was also out of bacon, let's face it I was not very well prepared yesterday, so I used pancetta instead. As is often the case, my experimenting and substituting turned out to be a winner. The blue cheese added a nice sharp kick and the pancetta was so crisp and salty, it was the perfect complement for the corn and potatoes. And what could be wrong with that?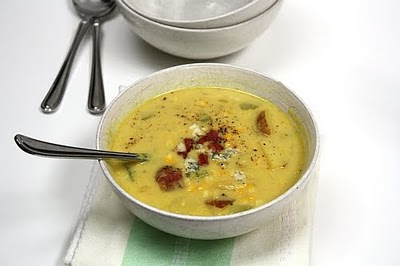 Corn and Blue Cheese Chowder
adapted from the
Barefoot Contessa Cookbook

4 ounces pancetta, chopped
2 tablespoons good olive oil
4 large onions, diced
3 stalks celery, diced
2 tablespoons butter
1/2 cup flour
1 teaspoon kosher salt
1 teaspoon freshly ground black pepper
1/2 teaspoon ground turmeric
8 cups chicken stock
2 cups unpeeled new potatoes, cubed
2-3 cups fresh corn kernels (5-6 cobs of corn)
1 cups half-and-half
4 ounces blue cheese (I used Stilton) crumbled
2 ounces medium cheddar, grated
In a large stockpot, cook the pancetta and olive oil over medium heat until the pancetta is crisp, about 5 minutes. Remove the pancetta with a slotted spoon and drain on a paper towel. Set aside
Remove all but one tablespoon of the bacon fat from your pan. Reduce the heat to medium; add the onions, celery and butter, and sauté for 10 minutes, until the onions are translucent.
Stir in the flour, salt, pepper, and turmeric and cook for 3 minutes. Whisk in the chicken stock until the soup is smooth. Add the potatoes and bring to a boil. Reduce heat to medium low and simmer uncovered for 15 minutes, until the potatoes are tender. Add the corn to the soup and simmer 5 minutes more. Remove the pot from the heat. Add the blue cheese and cheddar and stir until melted. Add the half-and-half and just until combined. Season, to taste, with salt and pepper. Serve hot with a garnish of bacon and extra blue cheese crumbles.