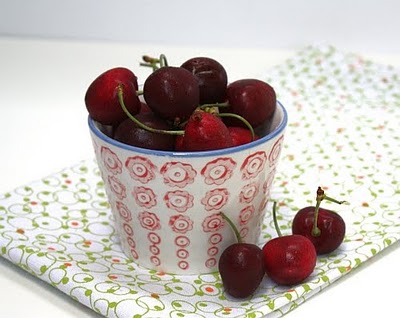 I mentioned a couple of weeks ago when I made
Cherry, Almond Chocolate Chip Cookies
that I have a thing for cherries and almonds. Well, I wasn't kidding. Since I made those cookies I have had that combination constantly on my mind. Then, when I found a bag of organic Ontario Cherries at the farmer's market, I knew what I had to do! I had to find a recipe that would bring these two loves together.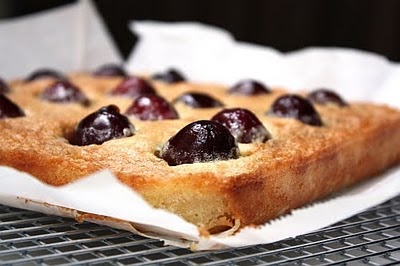 After strawberries, then next big "summer" crop for me is cherries. I could eat bowl after bowl of them in one sitting. When I was younger, we had a cherry tree in our backyard and I vividly remember standing under the tree just pulling cherries from the branches and eating them right there on the back lawn. So when I saw the first baskets of the season at the market I snapped them up.
But then what to do with them? I had already made the cookies, so I wanted to find something different. I began my usual routine of fishing around on the internet when I came across
this recipe
from Smitten Kitchen.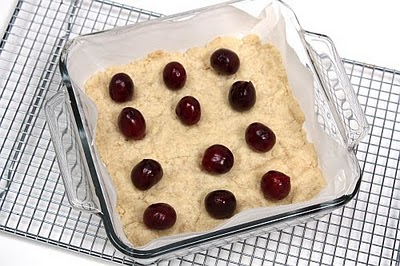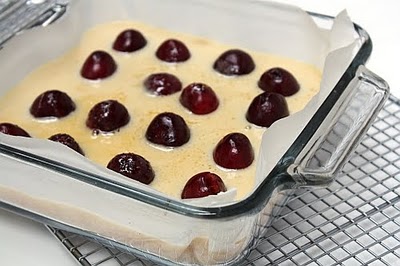 Now anyone who regularily visits Deb's beautiful site knows she has a thing for baked goods made with browned butter. This is just the kind of recipe she loves, but I took one look at it and I thought, these bars could do with a little almond flavour. I added some extract and ground almond to both the crust and the filling and they turned out perfect. The filling was soft and buttery with a crisp shortbread crust and the pop of cherries in each bite was just what I wanted. Plus, they looked beautiful and I had plenty of cherries left for something else...like maybe cherry jam or cherry ice cream or cherry soda or cherry smoothies, hmm so many possibilities.
Cherry Almond Bars
adapted from
Bon Appetit
via
Smitten Kitchen
for the crust:
7 tablespoons butter, melted
1/3 cup sugar
1/4 teaspoon vanilla extract
1/2 teaspoon almond extract
1/4 cup ground almonds
1 cup plus 1 tablespoon all purpose flour
pinch of salt
for the filling:
1/2 cup sugar
2 large eggs
pinch of salt
1/4 cup all purpose flour
2 tablespoons ground almonds
1/4 teaspoon vanilla extract
1/2 teaspoon alomnd extract
1/2 cup butter, diced
16 pitted sweet cherries
Preheat oven to 375°F. Line an 8 inch square pan with parchment paper, leaving some paper to hang over the sides.
In a small bowl mix melted butter, sugar, and vanilla. Add flour and salt and stir until combined. Transfer dough to the prepared pan, and press evenly across the bottom of the pan with your fingers. Bake until golden, about 18 minutes. It might puff slightly while baking. Remove from oven and cool the crust slightly on a baking rack while continuing with the filling. Keep oven at 375 degrees F.
For the filling, melt butter in heavy small saucepan. If you want to you can cook the butter until it is browned, about six minutes. I omitted this step from Deb's recipe as I wanted to showcase the almond flavour.
Whisk sugar, eggs, and salt in medium bowl to blend. Add flour, ground almond, almond extract and vanilla. Whisk until smooth. Gradually add melted butter into sugar-egg mixture; whisk until well blended.
Arrange pitted cherries in bottom of cooled crust. Carefully pour the filling evenly over the fruit. Bake bars until filling is puffed and golden and tester inserted into center comes out clean, about 40 minutes. Cool bars completely in pan on rack.
Remove the cooled bars from the pan using the parchment paper and cut into squares.