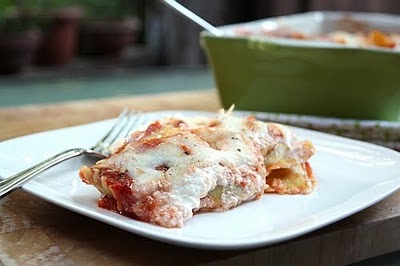 I try very hard to make everything from scratch. Mostly because I really enjoy the cooking process, but also because I just want to control what goes into my food. That's not always possible when you make something processed. But there are ways; you just have to be choosy.
As I
mentioned
, I am pretty pressed for time at dinner these days. Right now, I am all about the 30 minute dinner and 30 minute dinners require shortcuts. Like the other night when I made lasagna…well not really lasagna, I made cheaters lasagna.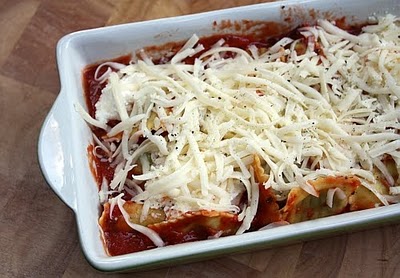 There is a store in my area that makes really good homemade ravioli. It is fresh pasta and they have all kinds of varieties. When I make this dish I choose the spinach and ricotta filling. The noodles take 3-4 minutes to cook, so it couldn't be faster to put this together. After I boil the noodles I toss them in a marinara sauce and pour the whole thing into a baking dish. Then I throw in a few dollops of fresh ricotta, put a little grated mozzarella on top and bake it for about 20 minutes. Voila, lasagna…in less than 30 minutes.
Fact is, I actually like this better than regular lasagna. The ravioli has the perfect amount of spinach and cheese and the fresh ricotta gets creamy and warm once it is baked with the pasta. Overall, a very satisfying way to make a quick baked pasta.
If you have more time, you could add spinach to the sauce or mix the ricotta with some extra basil, Parmesan and grated mozzarella cheese before you add it to the pasta. You could also change up the taste by choosing different ravioli. How about butternut squash ravioli with a cream sauce and sage…hmmm, maybe I will have to try that one next time!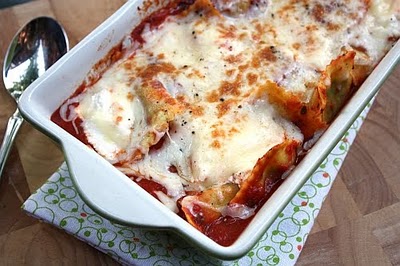 Cheaters Lasagna
2lbs homemade ravioli or filled pasta of your choice
2 cans San Marzano tomatoes, crushed
2 tablespoons olive oil
1 small onion, diced
1 garlic clove, minced
handful of fresh basil leaves, torn
salt and pepper to taste
1/2 lb fresh ricotta
2 cups grated mozzarella
Preheat oven to 375 degrees. Put a large pot of water on the stove to boil. Add the pasta and cook according to package directions. For fresh pasta I take 1 minute off of the cooking time so they do not get too soft when baking.
Heat the olive oil in a large saute pan over medium heat. While you are waiting for the water to boil, saute the chopped onion and garlic in the olive oil until translucent, about 2 minutes. Add the crushed tomatoes and salt and pepper to taste. Let simmer for 5 minutes. Just before you are ready to take the sauce off the heat add the torn basil leaves and stir to incorporate into the sauce.
Drain the pasta and toss into the sauce. Pour everything into a 9 inch baking dish. Using a large soup spoon, drop dollops of fresh ricotta cheese into the ravioli and sauce mixture. I usually add 5-6 dollops of cheese, but you can add as much or as little as you like. Sprinkle the grated mozzarella over top and bake for 20 minutes until the cheese is melted and browned. Enjoy!