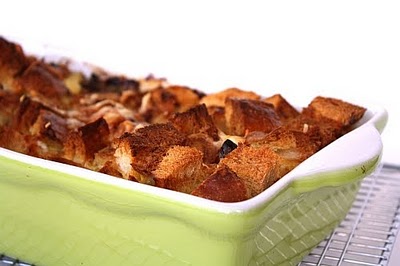 I have a quick post about an easy recipe for you today. I made this Savoury Bread Pudding the other night as a means to avoid throwing out a stale loaf of garlic bread.
I have a bad habit of over-shopping when I am preparing for a dinner party. I worry that there won't be enough for everyone and I end up I buying way too much food. That is just the kind of thinking that led me to buy this loaf of artisan garlic bread which, to be honest, never even saw the light of day during my dinner party.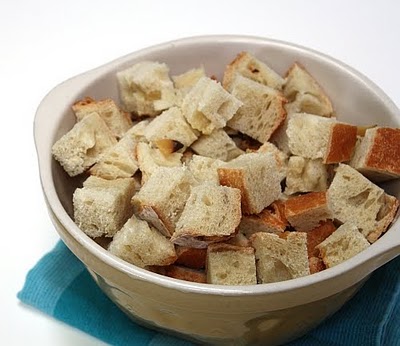 By the time I remembered it was sitting in my cupboard it was approaching the "hard as a brick" stage. Despite that, I was determined to do something with it. In the past I have made bread soup or a bread salad with leftover bread, but this time I wanted to do something different.
I had been in a little
café
earlier in the day and they had slices of raisin bread pudding for sale. This got me thinking that I should do a savoury version that I could serve with the
barbequed
chicken we were having for dinner. (Organic,
pre
-marinated flat chicken from
Butcher By Nature
, by the way.
Delish
!)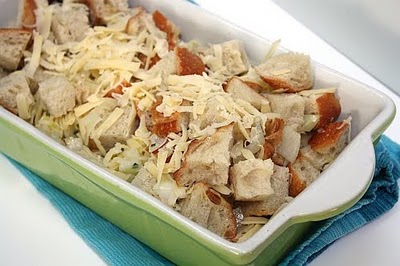 The recipe I used ended up being very much like the
Strata recipe
I posted way back when. For this version, I used lots of caramelized onions, fresh rosemary and Gruyere cheese. It came together quickly, baked up beautifully and we managed to finish off the entire thing in one sitting. Definitely a keeper. The next time you find yourself with stale bread I suggest you give this a try, you won't be disappointed!
Savoury Bread Pudding with Gruyere and Rosemary
For this recipe you could use any combination of cheese and herbs that you like. I used G
ruyere
and rosemary, but you could use thyme and C
heddar
or chives and goat cheese, the possibilities are endless.
4 cups cubed stale garlic bread
2 tablespoons olive oil
2 medium onions, chopped
2 tablespoons minced fresh rosemary
1 cup shredded Gruyere
6 eggs, lightly beaten
1 cup heavy cream
1 cup milk
1 teaspoon salt
1/2 teaspoon pepper
Preheat oven to 375 degrees F. Butter the bottom and sides of a 9 inch baking pan.
In a fry pan over medium heat saute onions in the olive oil until caramelized and golden brown, about 15 minutes. Add the rosemary and saute one minute more.
Pour the cubed bread into the baking pan. Add the onion and rosemary mixture and 1/2 of the cheese. Gently toss everything to combine. Sprinkle the remaining cheese over the top.
In a small bowl beat together milk, cream, and eggs. Pour carefully over the bread. Some of the bread will
stic
k out of the custard, but that is okay.
Bake for 1 hour, or until browned and a knife inserted in the middle comes out clean. Remove from oven and cool on a baking rack. Serve warm.
Next post:
Cherry Almond Bars