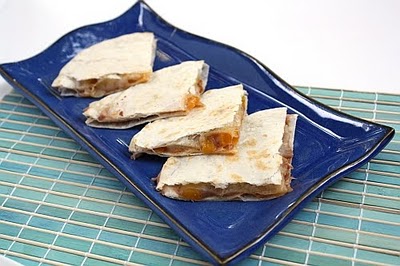 I have another quick dinner idea for you. Quesadillas. This is probably one of the quickest and easiest dinners I make on busy week nights. It takes about 20 minutes from start to finish and it is a family affair getting it ready. My husband grates the cheese while my daughters help with the assembly.
Five
quick minutes in a frying pan to melt the cheese and voila, dinner. Add a salad or some rice and...even better dinner!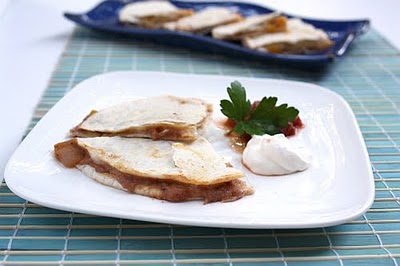 I introduced my children to Tex-Mex food early on because a) it is usually a quick dinner option, b) it is always kid friendly and c) I have a real weakness for Mexican food. I am very partial to spicy foods and I am always happy to eat anything that includes salsa and sour cream (terrible, I know). This fits the bill on all accounts and the possibilities are endless. Add leftover chicken or shrimp, a little steak or just as it is. I get mild salsa for my girls and extra jalapenos for me. Plus, in the summertime nothing goes better with a cold beer!
These Black Bean Quesadillas are my vegetarian version. I fry a few onions, garlic and peppers with some chili powder. Then I spread some refried black beans on a tortilla, add the sauteed vegetables and some cheese. If you want them spicy use a spicy chili powder or add the jalapenos to the sauteed vegetables. Serve with a little sour cream and the salsa of your choice.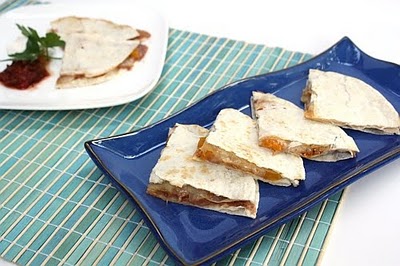 Black Bean Quesadillas
10 small flour tortillas
2 tablespoons olive oil
1 large onion, sliced
1 red or green pepper, seeded and sliced
2 cloves of garlic minced
1 tablespoon of chili powder
salt and pepper to taste
1 cup old cheddar cheese, grated
1 16 ounce can refried black beans
salsa of your choice
sour cream
Grate the cheese into a small bowl. Set aside.
In a frying pan over medium heat saute the sliced onions, peppers and garlic in one tablespoon of olive oil. When the onions are translucent add the chili powder and salt and pepper. Continue to saute for one minute more. Remove from heat.
Grease a clean frying pan with a little of the remaining olive oil. Spread one tortilla with about 2 tablespoons of the refried black beans. Add 2-3 tablespoons of the sauteed vegetables and a sprinkling of the grated cheese. Place a second tortilla on top. Place the quesadilla in the frying pan over medium heat. Cook for 2-4 minutes until browned and crisp. Flip over and do the same on the second side. Remove from the pan and cut into wedges. Continue to the process with the remaining tortillas. Serve warm with a scoop of salsa and sour cream.