I made something quintessentially Canadian tonight. I made Butter Tarts.
I was going through my recipe box trying to think of something to make for this evenings post when I came across my recipe. I haven't made Butter Tarts for a while so they caught my attention.
Truth be told, my very favourite ones come from
my uncle's bakeshop
. But as that is a 2 hour drive, I decided to make these instead.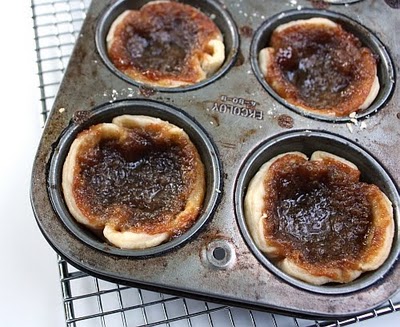 Don't get me wrong, these are good, really good. The reason why I like my uncle's better is that he has a special machine that he uses to stamp out the dough nice and thin. Try as I might, I can never get my pastry as thin and for me a good butter tart is all about the filling.
But I was glad to have these when dessert time came around and believe me no one else was complaining either. The filling in these tarts is perfect, smooth and rich with a good hit of maple flavour. If you cook them just to the 18 minute mark the filling stays runny which is, in my mind, the best way to have a Butter Tart. And if you are Canadian then you know by saying that I have just waded into the great Butter Tart debate...runny filling or not, but lets not get into that now. Let's just have another tart.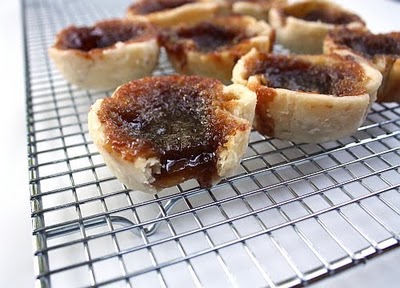 Butter Tarts
for the filling:
1/2 cup room temperature butter
1 cup brown sugar
1/2 cup corn syrup
1/2 cup maple syrup
2 eggs
1 teaspoon vanilla
a few drops of lemon juice
pinch of salt
for the pastry:
1-1/4 cups all-purpose flour
1/4 teaspoon salt
1/3 cup shortening
4-5 tablespoons ice cold water
Preheat the oven to 375 degrees. Make the pastry first. In a small bowl mix the flour and salt. Cut in the shortening with a fork or a pastry cutter until the mixture resembles coarse crumbs. Add the cold water and stir just until the dough starts to pull together.
Turn out onto a well floured surface. Quickly shape into a ball and roll out to a 1/4 inch thickness. Cut into 4 inch circles and fit the cut pastry into the cups of a muffin tin.
In a medium bowl cream together all of the filling ingredients until smooth. Fill the prepared cups 2/3 full. Bake for 18-20 minutes. Remove from oven and cool on a wire rack for 10 minutes. Remove from muffin tin and let stand until completely cool.