I had a really busy weekend. I have been working a lot and working weekends so I have not had a lot of time to bake. When I had this weekend off I decided to make up for lost time. I made homemade gnocchi, homemade granola, scallion pancakes, an amazing steak sandwich and cornbread.
When I sat down to do this post I thought what, out of all of those great recipes, am I going to share tonight? I decided on the Cornbread. Now, you may think out of all of my choices that this is the most mundane offering but I say
au contraire
.
This Cornbread is just a beautiful cake, real comfort food. That's actually why I made it. I woke up Saturday morning planning to do all of this cooking and baking but first I wanted something comforting for breakfast. When I was little my mother would make Cornbread and we would eat it hot out of the oven drenched in butter and maple syrup. That's what I felt like having to start my day... something warm that reminded me of home, of being a kid, of mom in the kitchen.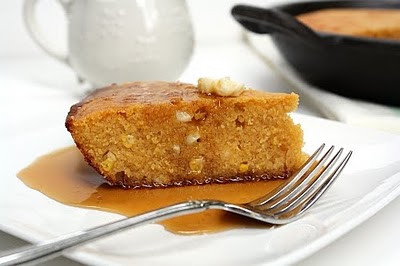 The recipe I use is very simple. It is made in a cast iron pan which gives the cake a nice crisp outside with a moist and dense centre, perfect for a good dousing of maple syrup. Of course that is not the only way you can eat it. I make it for chili and I add cheese and jalapenos or I make it to go with pea soup or stew. You can even split it and use it to make Strawberry Shortcake. It works so many different ways, but if you haven't tried it with maple syrup then make that a priority. Because then you will have an idea of what home feels like to me.
Cornbread
This recipe is from Michael Smith's
Chef at Home
series
½ cup butter
1½ cups milk
1½ cups coarse cornmeal
½ cup brown sugar
3 large eggs
1 teaspoon baking powder
¼ teaspoon salt
1 teaspoon vegetable oil for greasing the skillet
Preheat oven to 400 degrees. Place an 8-inch cast iron skillet in the oven to preheat.
Combine the butter, milk, cornmeal and brown sugar in a small saucepan. Bring to a slow, steady simmer over medium heat and whisk for a few minutes until thickened. Remove from heat and let cool slightly while you prepare the rest of the ingredients.
Add eggs, baking powder and salt to a medium bowl and whisk lightly. Add to the cornmeal mixture and stir until well combined.
Oil cast iron skillet and pour in batter. Bake for 20-25 minutes until the cornbread is golden around the edges and cooked through.
Remove from oven and cool on a baking rack for 10 minutes. Turn the cornbread out onto a platter and serve in wedges while still warm.