Most times I find that simple is better, especially when you are cooking with fresh produce.
For as long as I can remember I have been eating and making the traditional Potato Salad. I have used essentially the same recipe for more years that I care to contemplate. Sure, sometimes I mix it up, I add pickles or dill or eggs, but in the end this salad always involves a heavy dose of mayonnaise and a laundry list of other ingredients…mustard, spices, onions, and on and on.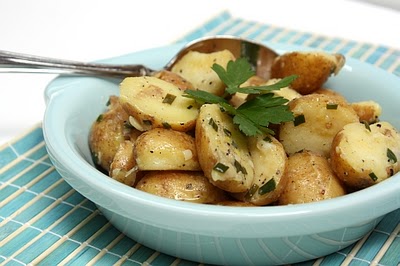 But recently my neighbor and good friend, Treva, introduced me to a new way to make Potato Salad. This is a recipe passed down from her mother-in-law, which is the way most of the best recipes circulate, from friend to friend, relation to relation.
It is so easy to make that it hardly feels like any effort at all. Just steam some potatoes and then when they are still warm toss them with plenty of olive oil, vinegar and salt and pepper. When the potatoes have cooled toss in a good handful of chopped green onion. That's it.
I especially like this recipe because instead of mayonnaise I taste potatoes, spring onions, and a lovely light vinaigrette. You could add fresh herbs…parsley would be good, as would or dill or basil, but I like it the way it is.
I'm sure I will make the traditional salad again, some day, but for now I am sticking with simple and delicious.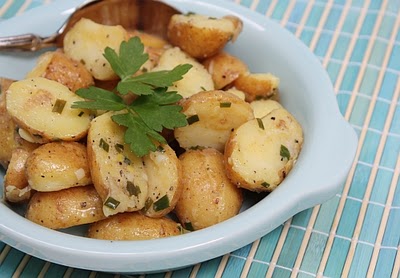 Potato and Green Onion Salad
1 lb of small new potatoes
1/4 cup good olive oil
3 tablespoons white wine vinegar
1/2 cup sliced green onions
salt and pepper to taste
Steam your potatoes until they are tender.
Move to a medium sized bowl and toss with the olive oil and vinegar. Season with salt and pepper to taste. Once they have cooled toss in the sliced onions and serve. This salad is great room temperature or cold. If you make it a day in advance the dressing has a chance to absorb into the potatoes.