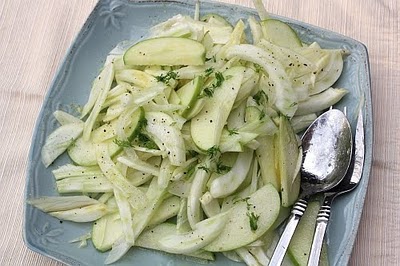 As soon as the weather turns warm I start to think about lighter things, like salads and fresh tomatoes. Gone is my desire for stew and roasted vegetables. I want to cook less and eat things in their natural state. Sometimes the simplest things are the best.
This Apple and Fennel Salad is a perfect example of that. It is one of my favourite summer salads. It works well on it's own for a light lunch or dress it up with a piece of grilled fish or chicken. It is crisp and fresh and the fennel pairs well with the tartness of the apple and the acidity of the vinaigrette dressing.
I remember when I first discovered it. I was watching the
Food Channel
and Chef Michael Smith was making it in an episode from his
Chef at Home
series. I had not tried fennel before but I knew it had a licorice taste which I thought would be a strange combination with apples.
That was when I decided I had to try it. I have gotten to the point that I seldom trust my first instinct because some of my best food discoveries have come from trying something I initially thought I would not like.
Now this salad is a staple in our house and fennel has become one of my new favourite vegetables. I put it in stews and spaghetti sauce. I roast it in the winter and in the summer I make this salad. I have changed the vinaigrette quite a bit from the original so if you want to make the salad the original way follow the link above.
Apple and Fennel Salad
adapted from the recipe by Michael Smith
Chef at Home
1 fennel bulb thinly sliced
1 granny smith apple thinly sliced
3 tablespoons of good olive oil
1 tablespoon lemon juice
1 tablespoon white wine vinegar
2 teaspoons sugar
1/2 teaspoon dijon mustard
salt and pepper to taste
fennel fronds
Toss the fennel and apple slices in a medium bowl. I simply drizzle the vinaigrette ingredients over the fennel and apple and then toss everything until the salad is well dressed. Garnish with the fennel fronds and an additional sprinkling of fresh ground pepper. Serve immediately.