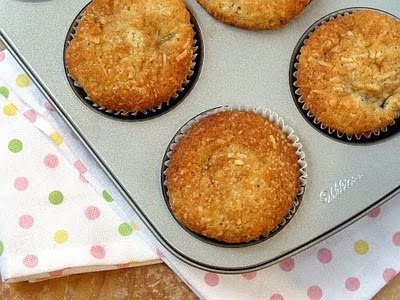 When my eldest daughter started kindergarten this year I was initiated into the world of trouble that seems to accompany supplying a school snack. I want to send something my child will eat (and she has many opinions about that), I want it to be a quick thing to pull together in the morning or the night before and I want it to be healthy. Add to that the fact that I don't want the snack to generate a lot of garbage and a simple snack becomes a big pain in the butt.
I have come up with a number of combinations that work, but what gets the biggest "thumbs up" from my daughter is when I bake something like a muffin or biscuit and send it along with a piece of fruit. She likes the
Darby Cakes
and
Blueberry Muffins
and last week I made Banana Coconut Muffins from
the Barefoot Contessa

Boy, that was a hit. .
They solved the "what's for my snack?" dilemma for the week. Bake them on Sunday night and the week is pretty much set. The muffins have a nice banana flavour and a good hit of fruit, with 4 bananas in the recipe. Also, I can control the portion size by baking mini muffins. Add in some whole wheat flour or a little wheat bran and you up the fiber. The amount of sugar in the recipe can also be cut back a bit if you desire. And, the muffin wrappers go in the compost when you are done, so no garbage! Those are the kind of snacks I like.
Banana Coconut Muffins
adapted from
The Barefoot Contessa Cookbook

To add more fiber, swap a 1/2 cup of the all purpose flour for 1/2 cup of whole wheat or wheat bran. Also, you can reduce the sugar by 1/2 cup if you desire a less sweet muffin.
3 cups all-purpose flour
2 cups sugar
2 teaspoons baking powder
1 teaspoon baking soda
1/2 teaspoon salt
1/2 pound unsalted butter, melted and cooled
2 extra-large eggs
3/4 cup whole milk
2 teaspoons pure vanilla extract
1 cup mashed ripe bananas (2 bananas)
2 medium bananas diced
1 cup sweetened shredded coconut
Preheat the oven to 350 degrees. Line muffin pan with paper liners or grease the cups well if you are not using liners.
In a large bowl, whisk together the flour, sugar, baking powder, baking soda, and salt to combine. Add the melted butter and stir to combine. In a separate small bowl, combine the eggs, milk, vanilla, coconut and mashed bananas. Add this to the flour-and-butter mixture and blend all ingredients together but do not overmix.
Fold in the diced bananas. Scoop the batter into the paper liners or prepared muffin cups, filling each 3/4 full. Bake for 25 to 30 minutes, or until the tops are brown and the centre springs back when lightly touched. Cool slightly and remove from the pan. Cool completely on a wire rack. Enjoy.
Next Post
: Zucchini and Wild Leek Fritters.