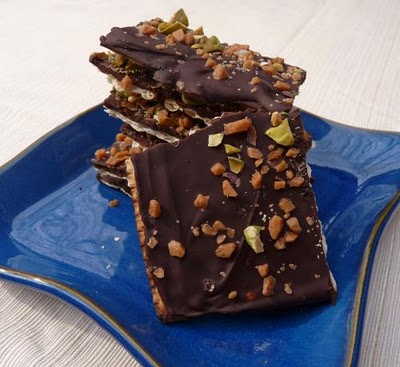 I had my sister and her family over for dinner on the weekend and it was a good excuse to make way too much food. This is pretty much standard practice in our family; always cook twice as much as you need. I think it is a by-product of coming from a fairly large family that universally loves good food.
We use any get-together as an occasion to try new things, share favourites and, in the case of my younger sister and me, one up each other in the dessert department. For years we have had a bit of a competition to see who can make the most elaborate and decadent dessert.
Well, this last weekend I did not make anything too elaborate. instead I opted for making two desserts. I made a really rich and dense flourless chocolate cake, (that recipe will be next, I promise) and I made this fabulous toffee, chocolate and pistachio bark.
It is crisp with a great hit of intense chocolate flavour. I found the recipe in the June 2008 issue of
Vegetarian Times
and I have been making it ever since. I thought it would be a nice accompaniment to coffee later in the evening, and it was. I even sent them home with extra in a doggybag.
I am saving the elaborate and over the top dessert for next weekend when my whole family gets together. I like having a bigger audience when I win!
Toffee, Chocolate and Pistachio Bark
adapted from the June 2008 issue of
Vegetarian Times
.
6 salted matzo crackers
2 1/2 cups chocolate chips
3/4 cups toffee chips
1/2 cup roasted pistachios, chopped
Preheat the oven to 350 degrees. Line a cookie sheet with foil.
Arrange matzo crackers on the cookie sheet so that the entire surface is covered with no gaps. Bake on the middle rack for 10 minutes until the matzo are crisp. Remove from the oven and sprinkle the surface with the chocolate chips. Return to the oven for 3-5 minutes, just to soften the chocolate chips. Remove from oven and using a spatula, spread the melted chocolate chips to cover all of the matzo with a thin layer of chocolate. Sprinkle with the toffee chips and chopped pistachios. Leave to cool completely, I put mine in the refrigerator for about a half and hour. Once the chocolate is firm and completely cooled break the bark into pieces and enjoy! Store the remainder in an airtight container in the fridge.