First, a little self promotional plug. A little while ago I was asked to do an interview with Look and Taste, a food site out of Ireland. They wanted to know a bit about me and why I began blogging. This is my first interview and it is up on their site today, so I am quite excited. You can read it
here
.
Now back to our regularly scheduled post…I am currently participating in a benefit dinner to support the Campbellford Memorial Hospital, which is the hospital in the small town where my grandfather's, (now uncle's)
bakeshop
is located. This is the second time that my uncle has taken on the task of creating an amazing dinner to support the hospital.
I am fortunate to be involved this time and I am really enjoying the process. It is a seven course meal for 200 people and most of the supplies and all of our time and work is donated to raise money for the hospital to buy much needed equipment and supplies, so I am very excited to be part of such a worthy cause.
As much as possible we source food from local producers and we make everything from scratch. So far I have been involved in finding local meats and cheeses for a charcouterie course, making a bean spread and I developed this cheesecake recipe. My uncle decided he wanted a cheesecake for the dessert course and we wanted to go with a citrus based cake to finish the dinner with a light and fresh flavour note.
I pulled in the elements of a few different recipes and made some tweaks of my own to come up with what I think is a pretty amazing cheesecake. The crust is a shortbread base with lemon and orange zest and the cheesecake has a great orange flavour.
Last, I added an amazing Orange Caramel Sauce. Honestly, this sauce is the best part of the recipe. It is so rich and intense with a very distinct burnt sugar flavour. After I tasted it I wanted to put it on everything, and I mean everything. Do caramel sauce and steak go together? Anyway, I love this sauce and I think you will too. This recipe has a lot of steps but it is worth it. Try it for your next special dinner, you won't be disappointed.
Orange Cheesecake with a Citrus Crust and Orange Caramel Sauce
This recipe was adapted from a few different recipes in Bon Appetit Magazine. For my sources follow the links
here
,
here
and
here
.
Crust
1 egg, separated
1 tablespoon fresh squeezed lemon juice
½ teaspoon lemon zest
½ teaspoon orange zest
¼ teaspoon vanilla
1¼ cups flour
1/3 cup sugar
½ cup butter
Preheat the oven to 425 degrees. Butter a springform pan and line with parchment paper. In a small bowl, whisk together the egg yolk, lemon juice, orange and lemon zest and vanilla. Set aside. Blend flour and sugar in a food processor. Add butter and blend until mixture resembles course crumbs. Add the yolk mixture and blend until the dough comes together in a ball. Press into the bottom and ½ inch up the sides of the springform pan. Freeze for 10 minutes. Whisk the egg whites until foamy and brush them lightly over the surface of the crust. Bake 15 minutes in the centre of the oven or until the crust is a light golden brown. Cool on a wire rack while you assemble the filling.
Filling
The cheesecake is baked in a water bath so you will need a roasting pan large enough to hold your springform pan and tall enough to fill with water to half way up the side of the springform pan. The cheesecake takes a long time to cool so you can make it a day ahead and save it, covered, in the refrigerator until you are ready to serve it.
1 cup of fresh squeezed orange juice
1 cup sugar, separated
2 tablespoons orange zest
4 8ounce packages of cream cheese
1 cup sour cream
3 tablespoons flour
¼ teaspoon salt
5 eggs
Preheat the oven to 350 degrees. Wrap the bottom of your springform pan with 4 to 5 layers of aluminum foil to make it waterproof and set the springform pan into your roasting pan.
In a small saucepan combine orange juice, ¼ cup of sugar and the orange zest. Boil until the sugar dissolves, then lower the heat to medium and simmer for about 20 minutes or until the mixture is reduced to about ¾ cup. Place in refrigerator to cool.
In the bowl of a stand mixer beat cream cheese and ¾ cup of sugar until smooth. Add the sour cream, flour and salt and mix until incorporated. Mix in the eggs one at a time. Mix in the orange syrup and blend until well combined. Pour the batter over the prepared crust.
Pour hot water into your roasting pan to reach half way up the side of the springform pan being careful not to get any water onto the cheesecake batter. Place your roasting pan into the preheated oven. Bake for 1hour and 15 minutes or until the centre of the cheesecake is set. Have a wire cooling rack ready in your refrigerator and when the cheesecake is done remove the springform pan from the water bath, remove the foil and place the pan immediately in your refrigerator to cool. Do not unmold your cake from the springform pan until it is ready to serve. The cake will take 6-8 hours to cool completely or can be left overnight. To unmold, run a sharp knife around the inside of the pan to release the edges of the cheesecake and unsnap your springform pan to remove the collar.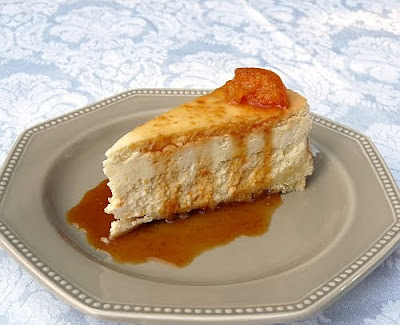 Orange Caramel Sauce
1 navel orange
1 1/2 cups sugar divided
2 tablespoons butter
1/8 teaspoon kosher salt
Slice the orange very thin, about an 1/8 of an inch and remove seeds. Place in a medium bowl and sprinkle with 1/2 cup of sugar and toss lightly to combine. Set aside for 45 minutes to 1 hour.
In a large heavy saucepan combine 1 cup sugar and 1/4 cup water. Stir over medium heat until sugar dissolves. Increase the heat to high and boil the syrup without stirring, until it is a deep amber colour, about 10 minutes. During this time, occasionally swirl the pan and brush the sides with a wet pastry brush to prevent crystals from forming. Remove from heat. Carefully add orange-sugar mixture to syrup (it will bubble up). Return pan to medium heat and simmer, stirring occasionally, until the orange slices are tender, about 10 to 12 minutes. Cool for 10 minutes.
Transfer orange mixture to the bowl of a food processor; add butter and salt and process until orange slices are very finely chopped. Pour mixture through fine strainer set over a bowl, pressing on solids to release as much liquid as possible. The sauce will be thick. I thinned mine out with a little left over syrup from my candied orange slices to make it more pourable. Cool to room temperature. This sauce can be made up to 2 days ahead. Pour the sauce over your cheesecake slices as you are serving.
Candied Orange Slices
1/2 cup water
1/2 cup sugar
5-10 small oranges or kumquats, I used mandarins
Slice the oranges to 1/4 inch thick rounds. In a large heavy saucepan over medium heat simmer the water and sugar until the sugar dissolves. Add the orange slices and simmer about 25 minutes until the orange slices are translucent. Cool the slices in the syrup and then remove to a wire rack to drain and dry. Reserve the syrup for another use. Use the slices to garnish the top of your cheesecake slices.
Next Post:
Tuscan Bean and Sausage Stew