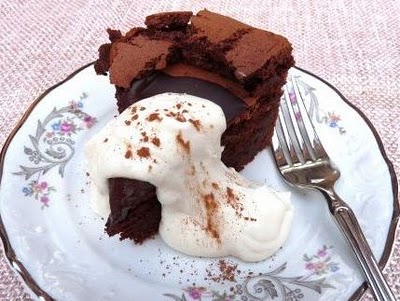 In my
last article
I mentioned a Flourless Chocolate Cake that I promised would be the subject of my next post. Not one to go back on my word I am going to include the recipe at the end.
But first, I wanted to take the chance to do a little housekeeping, so to speak, so I am going to discuss a few other things before I get to the cake.
I have been focused on writing an "About" page for the last little while to try to explain a little bit about who I am and why I chose to write this blog. I must admit it has been a bit daunting. It's hard to break down what you are when it seems there are so many variables to that question. I am mother to two amazing daughters and wife to my patient husband who puts up with all my foibles. I am daughter, sister and friend to a very supportive and wonderful group of people.
But beyond all that I am a person who cares very deeply about food. Not just eating it and enjoying it but where it comes from and how it got to my table. As much as possible I try to make sure my food is local, seasonal and homemade. It is not always easy and there has been some compromises, but as much as possible I try to follow that principle.
It bothers me that convenience has become the focus and the main selling feature for much of what we eat. Sure, you can get a box of Chicken Nuggets cooked and on the table in twenty minutes. But in 30 minutes you could cut up a chicken breast, dip it in seasonings and put something on the table that is not full of fillers, emulsifiers, stabilizers and other "izers". I just think there is a cost for all this "convenience" and for me it has become too high.
There is a very exciting movement growing right now that values this kind of thinking and is a large part of what made me decide to write about my own experiences. It can be found in the writing of
Michael Pollan
and
Jamie Oliver
and it is showing up in urban gardens and CSA's (community supported agriculture initiatives).
It has been an inspiration for me as I try to adjust my family's diet and include more and more that is homemade, unprocessed, local and seasonal. I sincerely hope that the recipes and the information I share in this space inspires others. I think it is important to reconnect with our food supply and the seasonality of what we eat.
One more thing, for those of you who have been kind enough to follow me from the beginning, you will have noticed a lot of shifting and changing on this site. In my typical fashion I jumped into this project before I had completely finished with the design. Thank you for your patience and I will stop…soon, I promise.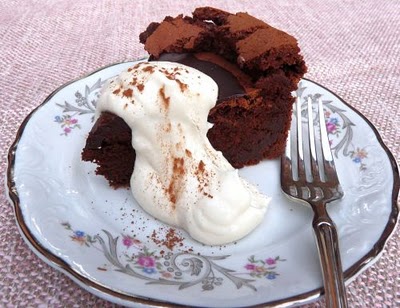 Now to the Flourless Chocolate Cake. I made it on the weekend when my sister's family was over. It is essentially a baked mousse, just eggs, chocolate and sugar and it is GOOD. Rich, decadent and worth the effort of beating all those egg whites.
Flourless Chocolate Cake with Chocolate Ganache
This recipe is from an old recipe card from the
LCBO
although the recipe is no longer available on-line.
8 ounces bittersweet chocolate, chopped
2 ounces unsweetened chocolate
1/2 cup unsalted butter
6 eggs separated
1 cup sugar
Preheat oven to 350 degrees. Line the base of an 8 inch springform pan with parchment paper.
Place chocolate and butter in a heavy pot and melt very slowly over low heat, stirring constantly until smooth. Remove from heat and set aside.
Place egg yolks in a large bowl and beat with a 1/2 cup of sugar until tripled in volume and the beaters leave a trail in the mixture. Fold in the chocolate mixture.
In a separate bowl with clean beaters whisk the egg whites until foamy. Slowly add remaining 1/2 cup of sugar. Whisk until egg whites are thick and glossy and hold stiff peaks. Stir one quarter of beaten egg whites into the chocolate mixture to lighten the batter. Then gently fold in the remaining egg whites.
Spoon the mixture into the prepared pan and bake 35 to 40 minutes or until the cake is slightly wiggly in the centre and has a crust on top. Do not over bake.
Cool on a wire rack for 30 minutes before unmolding onto a plate.
Ganache
3 tablespoons heavy cream
3 tablespoons corn syrup
4 oz bittersweet chocolate, chopped
In a small saucepan over medium heat, combine the cream and corn syrup. Bring to a simmer. Add the chocolate and whisk until smooth, about 1 minute. Remove from heat and let stand for about 10 minutes. The glaze should be thick put still pourable. Pour over the top of the cake.
Serve cake with whipped cream.