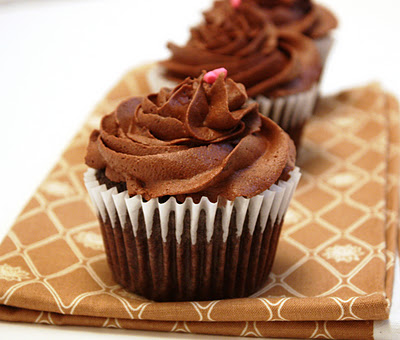 SO, it's the day after Halloween and I know what you are thinking, "boy, I could really go for some chocolate!" No? Well, I am forging ahead with this recipe anyways, as I think you may change your mind, because this is chocolate for the adults. It is not that cloyingly sweet stuff that your children are currently inhaling. It does not come in miniature size nor is it in a bright plastic wrapper.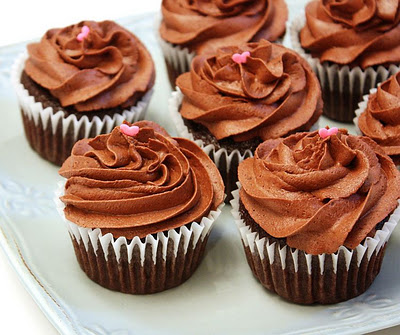 This is the good stuff! It is dark, intense chocolate with a fragrant dose of cinnamon and a nice kick of heat from ancho and cayenne peppers. It is chocolate all grown up. Have I convinced you yet? Well, after the kids are in bed, grab yourself a nice strong coffee and one of these little cakes. I think you will be glad you did.
This recipe is essentially an amalgam of my
Vegan Chocolate Cupcake
recipe and my
Spicy Hot Chocolate
recipe. I was having someone over for coffee and was looking to make a quick little cake to serve with our drinks but I wanted something a bit out of the ordinary. I thought the two would work well together and I was quite happy with the result.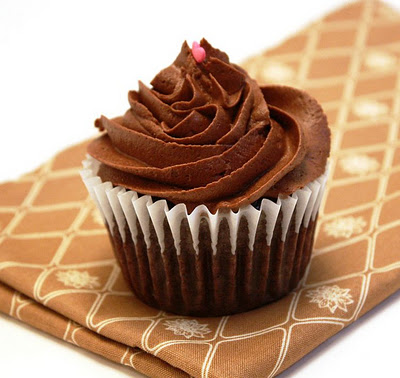 I love these vegan cupcakes. They are consistently moist and intensely chocolaty and the addition of the cinnamon and the pepper add a lovely complexity. The heat and sweetness of the buttercream added the perfect finishing note. Delish. Just don't let the kids get their hands on these, otherwise you may get stuck with the Halloween candy.
Mexican Chocolate Cupcakes
This is an adaptation of my
Vegan Chocolate Cupcake
recipe.
Prep time:
10 minutes
Ingredients
1 1/4 cup

all purpose flour

1 cup

sugar

1/3 cup

good quality unsweetened cocoa powder (I use Ghirardelli)

1 teaspoon

baking soda

1/2 teaspoon

salt

3/4 teaspoon

espresso powder

1 teaspoon

cinnamon

1 teaspoon

vanilla

1 cup

warm water

1/3 cup

vegetable oil

1 teaspoon

distilled apple cider vinegar
Cooking Directions
Preheat oven to 350 degrees.
Prepare a 12 cup muffin pan with paper liners or grease and flour the cups well.
In an medium bowl, mix together flour, sugar, cocoa, baking soda, and salt with a whisk. Make sure that all the ingredients are well blended. Add the warm water, vanilla, oil, and vinegar. Stir until well combined. Do not over mix.
Fill muffin cups 3/4 full with batter and bake in the centre of the oven for 15 to 20 minutes or until the cakes spring back when you lightly touch the centre.
Remove from oven. After 5 minutes, carefully remove the cupcakes from the tin and let cool completely on a wire rack before icing.
Mexican Chocolate Buttercream Frosting
Total time:
15 minutes
Yield:
one dozen cupcakes
Ingredients
1 cup

butter, at room temperature

3/4 cup

unsweetened premium cocoa powder

4 cups

icing sugar

3 - 4 tablespoons

milk

1 teaspoon

cinnamon

1/2 teaspoon

ancho chili powder

1/2 teaspoon

cayenne pepper

1/8 teaspoon

nutmeg

1 teaspoon

vanilla
Cooking Directions
Using a hand beater or stand mixer, at low speed, cream together butter, cocoa powder, the spices, vanilla extract and icing sugar. The mixture will be stiff and dry at this point.
Continuing at low speed add milk a tablespoon at a time until the frosting reaches the desired consistency. Turn your mixer onto high speed to make the frosting light and fluffy.
At this point you will want to check the flavour of the icing and adjust the spice level to suit your tastes. Add more of the chili and pepper if you want it more spicy.
Ice the cupcakes with a palette knife or a pastry bag. Enjoy!