I have a confession to make. When I said that we make chocolate chip cookies more that anything else I was not being completely truthful. They actually come a close second to pancakes, but my omission was due to the fact that, particularly among my children, pancakes are often viewed merely as a syrup delivery system.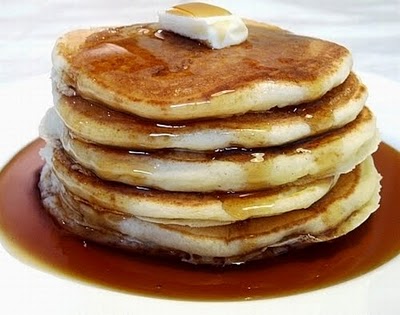 We go through a shocking amount of maple syrup in this house and our devotion to this amber liquid borders on the religious. We buy 4 litres at a time from a small family run operation in Campbellford, the same small town where we buy the amazing cheese that I used in my
Drop Biscuit
and
Macaroni and Cheese
recipes.
Curles Maple Syrup
has been in operation since 1862. In fact, the same family has been producing syrup in this sugar shack for 7 generations.
However, having said all that, I don't think we always give the pancakes themselves their due. There is nothing simpler to make than a pancake but the combinations and variations are endless. When they are good they are so much more than a vehicle for Maple Syrup. Testament to that is the fact that, as often as I make them, they still seem like a treat every time. I play with different flours and flavours and come up with any number of combinations, depending on my mood. Sometimes I swap out 1/2 cup of all purpose flour for corn meal and add brown sugar instead of regular sugar. Sometimes I swap out that same 1/2 cup of flour with 1/2 cup of oatmeal and add 1/2 teaspoon nutmeg, to make then taste like cake donuts. Sometimes I add a mashed banana or mashed sweet potato or blueberries. The possibilities are endless. The basic recipe is given here. It comes from the
Better Homes and Gardens Cookbook

which is my go-to cookbook for so many recipes. I have doubled the original recipe as I find it never makes enough for my hungry crew. Have fun and come up with new combinations of your own.
Buttermilk Pancakes
adapted from the
Better Homes and Gardens Cookbook

2 cups all purpose flour
2 tablespoons sugar
2 teaspoons baking powder
1 teaspoon baking soda
1/2 teaspoon salt
2 cups well shaken buttermilk
2 large eggs
1/4 cup vegetable oil
Mix dry ingredients together in medium bowl. Add all wet ingredients at once and stir just until combined. Do not over mix, batter will be slightly lumpy. Lightly coat skillet with oil. Heat to medium low. Drop 1/8 cup of batter onto heated skillet. Cook on first side until bubbles begin to form on surface, 2-3 minutes. Flip over and cook another 2-3 minutes until golden brown and centre springs back when lightly touched. Serve warm with maple syrup and butter. Makes 10-12 pancakes.