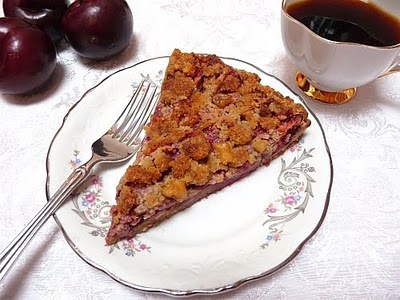 Dessert is a very regular occurrence around my house. I am a slave to my sweet tooth and I'm afraid I have passed the addiction on to my children. They are, of course, devoted to cookies, chocolate, cake; pretty much anything over the top sweet. Truth be told, I am not adverse to such things either, but sometimes I want something a little more grown up.
This Plum Walnut Tart is one of my absolute favourite desserts. It is tart, not too sweet and the nuts add an amazing richness and depth of flavour. The plums create a deep red syrup as it bakes, so the end result is a colourful and rich looking dessert.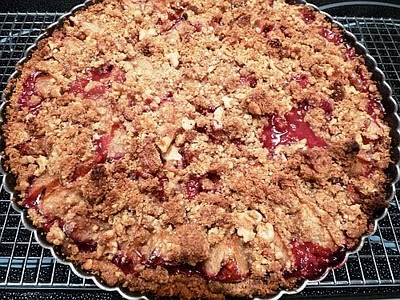 This is another one of those recipes that can easily be adapted to suit your tastes and the season. Here I have made it with red plums, but you could use black plums, or rhubarb or sour cherries. Any tart fruit would work well in this recipe. The walnuts have such a strong flavour on their own that you would want to use a fruit that can stand in contrast to them, but even a nice tart Granny Smith apple would work.
The original idea for the recipe came from the Barefoot Contessa, but I have adapted it considerably to suit my own tastes. I added more nuts, a bit more sugar, some cinnamon and changed the method quite a bit. The link to the original recipe is
here
, so you can compare the two and decide what is right for you. In the end, you may decide to change them both altogether. This is what makes cooking fun and allows for endless combinations and possibilities to suit every taste and mood.
Plum Walnut Tart
adapted from the
Barefoot Contessa Parties

2 cups all-purpose flour
3/4 cup ground walnuts
3/4 cup light brown sugar, lightly packed
12 tablespoons cold unsalted butter (1 1/2 sticks), diced
1/2 teaspoon salt
2 pounds firm, ripe red or black plums, pitted and cut into six lengthwise
2 tablespoons flour
2 tablespoons sugar
1/2 teaspoon cinnamon
additional 1/4 cup chopped walnuts for topping
additional 1/4 cup brown sugar for topping
Preheat the oven to 375 degrees.
Combine the flour, ground walnuts, sugar and salt in a large bowl. Add the butter and mix by hand until crumbly.
Press 1 1/2 cups of the crumb mixture in an even layer into the bottom of a 9 1/2-inch springform or tart pan with a removable bottom. In a small bowl toss plum slices, 2 tablespoons of flour, 2 tablespoons of sugar and 1/2 teaspoon of cinnamon. Arrange the plums in the pan, skin side down in concentric circles beginning at the outside and working your way in.
Add 1/4 cup of chopped walnuts and 1/4 cup brown sugar to the reserved crumb mixture and mix well. Sprinkle the rest of the crumb mixture evenly over the plums. Bake the tart for 45 to 50 minutes, or until lightly browned and the plum juices are bubbling. Remove from the oven and let stand for 10 minutes. Remove from the pan and transfer the tart to a flat plate. Serve warm or at room temperature