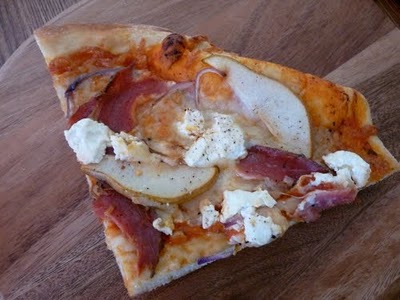 I went through a time, not long ago, when I was completely
over
pizza. I think my husband and I must have tried every pizza place in the city and I was always, always disappointed. In their defense, I don't think many foods stand up well to a half-hour car ride. Nevertheless, we went through a long separation.
Then I discovered how easy it was to make pizza at home and now I am happy to say that pizza and I are reconciled. I am convinced that if you use store bought dough, and there are some really good ones out there, that it does not take any longer to make pizza at home than it does to order it. Pizza at home costs less, is always hot and fresh and made exactly as you want it. And, as you can see by the hands of my little helper, it is something that the whole family likes to get involved in.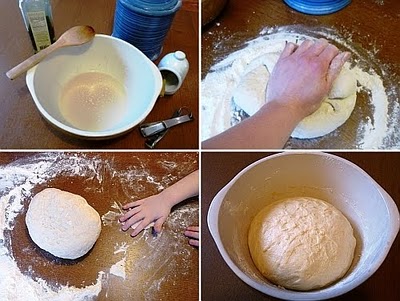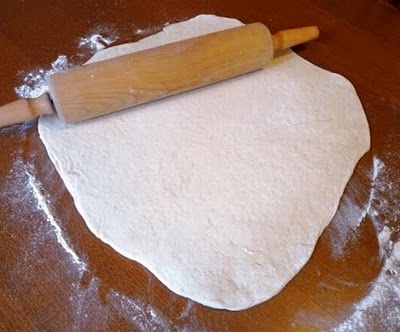 If you are feeling even more adventuresome, pizza dough is not hard to make. There are all kinds of quick dough recipes available on the internet and they can be ready to roll in about 20 minutes. They usually turn out a nice thin, crisp pizza.
My favorite recipe takes a little longer, about an hour and a half, but it makes enough for two pizzas and you can refrigerate or freeze the dough for later use. Whatever way you chose, store-bought or homemade dough, pizza at home is the way to go.
My latest combination of choice is a Pear, Ham and Goat's Cheese pizza. I use firm Bartlett pears, smoked prosciutto, thin sliced red onions, red pepper flakes for heat and generous dollops of goat's cheese. The result is a nice pairing of sweet and heat that I absolutely love.
The key to making your pizza at home is to make sure your oven is really hot and your oven rack is positioned in the bottom third of your oven. I put mine up to 450 degrees and let it warm up while I am rolling and preparing the pizza. I lightly grease a heavy cookie sheet, so the dough does not stick and so the crust gets crisp on the bottom. Once you have the pizza in the oven it takes about 20 minutes to cook, and you are ready to eat.
Pizza Dough
1 package or 2 1/4 teaspoons of active dry yeast
1 1/2 cups warm water (110°F -115°F)
3 cups all purpose flour, plus more for kneading, about a cup
1 1/4 teaspoons salt
2 tablespoons oil (I use olive oil, but you can use vegetable)
1 tablespoons sugar
In a large bowl, stir together warm water, yeast and sugar. Let sit 5-10 minutes for yeast to proof. The mixture will begin to look clouding and form bubbles.
Stir in the salt and oil. Add 1 cup of flour and stir until combined. Add the second cup of flour and combine. Repeat with the 3rd cup of flour. The mixture will be very thick at this point. Pour about a cup of flour onto your work surface and scrape contents of the bowl on top. Begin to knead the remaining flour into the dough.
To knead, fold the dough in half and push away with the heel of your hand. Repeat this process, kneading and adding in flour for 8-10 minutes or until the dough has formed a smooth and elastic ball and most of the remaining flour has been absorbed. Kneading takes time, but it is important as it develops the gluten in the flour. It is better to over knead, than under knead, so keep at it for at least 8 minutes.
Once you are done, pour a small amount of oil (about 1 teaspoon) into the bottom of the same bowl that was used to mix the dough. Turn the kneaded dough in the bowl to lightly cover the surface with oil. Cover the bowl with plastic wrap, leaving a small space open (to prevent the wrap from bursting) and set it in a warm place free from drafts for 1 hour or until doubled in size. I use the inside of my oven to proof my dough, it is always a little warmer than room temperature and it is a safe place to keep the dough undisturbed.
After the dough has doubled in size punch it down. At this point you can either use it right away or move it to the refrigerator for later use. If you are keeping it in the fridge place it in a lightly oiled plastic bag. Leave space for the dough to expand, as it will burst out of the bag if it is too tight. It can be kept in the fridge for 2-3 days or freeze for about a month. If you decide to freeze the dough, let it thaw for a hour at room temperature before you use it. If you are using it right away, let it rest for 10 minutes after you have punched it down and then roll out and add your favourite toppings.
Pear, Ham and Goat's Cheese Pizza
Pizza dough
1/2 cup tomato sauce
1 1/2 cups grated mozzarella
1/3 cup thinly sliced red onions
4-5 slices of smoked prosciutto torn into rough pieces
1/2 Bartlett Pear, thinly sliced
1/4-1/2 teaspoon red pepper flakes
1/2 cup goat's cheese, crumbled
Preheat oven to 450 degrees. Position oven rack to the lower third of the oven. Lightly oil a heavy cookie sheet. Roll out the pizza dough to a 1/4 inch thickness or to cover the bottom of your pan. Move rolled dough to the prepared cookie sheet. Spread the tomato sauce over the dough in a thin layer. Top with mozzarella cheese and remaining ingredients, ending with the crumbled goat's cheese. Bake for 20-25 minutes until cheese is bubbling and crust is golden brown. Remove from oven and let sit 5 minutes before serving.