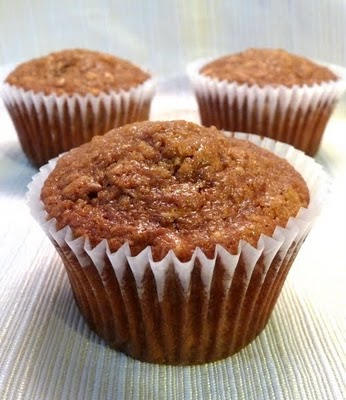 One thing I've learned about cooking is when things go wrong, you just have to roll with it and keep going. And sometimes accidents produce great results.
I woke up this morning the way I do most mornings, completely unexcited about breakfast. I am not a breakfast person. Actually, let me amend that statement, I am not an everyday breakfast person. I love
fancy egg dishes
, bacon,
pancakes
, etc, but you can't eat that everyday and I just don't like toast or cereal or any of the ordinary breakfast offerings.
So I usually wake up feeling a bit let down by what is waiting for me in the kitchen. My children and my husband would happily eat bowl after bowl of cereal everyday (which they do). I end up sitting at the table with a cup of coffee mentally going through my options (cereal...no...toast...no...oatmeal...no) and eat nothing.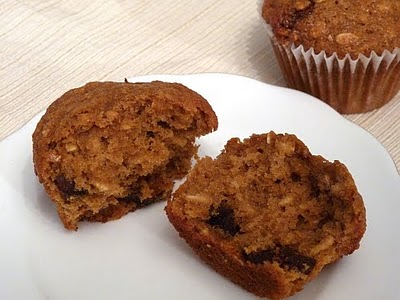 But this morning I thought I would like a bran muffin and as luck would have it I have a really great bran muffin recipe. So I immediately started with the recipe, mixing the wet ingredients, sifting the dry ingredients and then I get to my wheat germ and it seems sort of...wrong. It is clumped together and looks like it is moldy, yuck. But I am half way through the recipe.
After a minute of thinking I decide I need something to compliment the molasses that I have already added to the wet mix, so I add a half cup of whole wheat flour to replace the missing bran. But I also want something with the same hardy texture so I add a cup of oatmeal. And finally I add about 3/4 cup of chopped dates because they are a great addition to any bran muffin recipe. The end result was a really moist flavourful multigrain muffin. It had a very similar taste and texture to my bran recipe but the flavour was a little more subtle with the addition of the oatmeal. Definitely a happy accident.
Not-Bran Muffins
I have had this recipe forever. It originally came off of a wheat germ box, but I unfortunately have lost the brand name. I am giving both the original recipe and my substitutions below.
1/4 cup room temperature unsalted butter
1/2 cup firmly packed brown sugar
1/4 cup molasses
2 eggs beaten
1 cup milk
1 cup all purpose flour
1 1/2 teaspoon baking powder
1/2 teaspoon baking soda
1/2 teaspoon salt
1 1/2 cup bran (I substituted 1/2 cup of whole wheat flour and 1 cup of large flake oatmeal)
3/4 cup chopped dates
Preheat the oven to 400 degrees. Position rack to the middle of the oven.
In an electric mixer or by hand cream together butter and brown sugar. Add molasses and eggs and beat until well combined. Add milk and then bran and mix to combine. Combine remaining dry ingredients in a small bowl and then add to wet mixture and stir just to combine. Do not over mix. Stir in chopped dates. Scoop batter into muffin tin lined with paper cups filling about 3/4 full. Bake 20 minutes until golden and muffins test done. They will spring back when lightly touched in the centre. Remove from oven and cool on a rack for 5 minutes before removing from the muffin tin. Makes 12 muffins