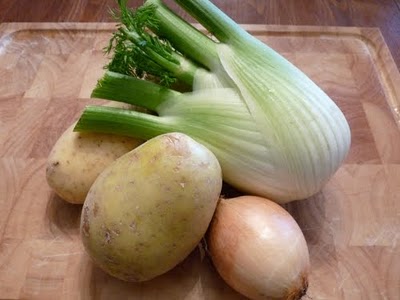 I have a certain affinity for potatoes. Yes, it's true; I am overly fond of this vegetable. I suppose the easy and unimaginative reason is my Irish Canadian heritage, but there is actually more to it than that. In the garden, potato plants are like little secrets.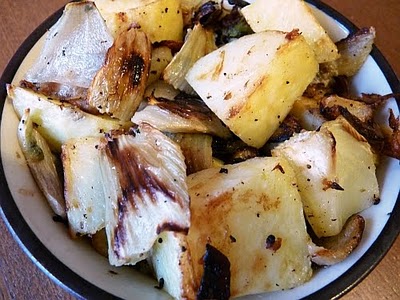 I used to love going out to my grandparents' garden to get the potatoes for dinner. My grandfather would explain as I trotted after him, basket in hand that the potatoes were his favorite plant, because each little mound was like a treasure chest and you never knew what you would find. He would pull up two or three mounds at a time with his pitch fork and I would brush through the earth to see what was beneath. And he was right, every plant was different; small potatoes, big potatoes, a lot, a little, you never knew what was beneath and there was nothing about the unassuming plant above that would help you guess what was below.
Potatoes are a great winter staple but they are too often relegated to side dish. This is a wonderful soup for a winter evening. The original recipe is from
The Barefoot Contessa Cookbook
by Ina Garten but I have taken some liberties to up the richness and, I added a little sweet Vermouth, because… well, why not? The result, a creamy and smooth soup with a great roasted potato and caramelized onion flavour. Served with biscuits, bread or a salad it makes a hearty winter meal.
Roasted-Potato Fennel Soup
adapted from Ina Garten's
The Barefoot Contessa Cookbook
4 pounds yellow flesh potatoes
4 cups fennel bulb roughly chopped
1/4 cup plus 1 tablespoon good olive oil
3 cloves minced garlic
1 tablespoon kosher salt
2 teaspoons freshly ground black pepper
4 cups chopped yellow onion
3 quarts chicken stock or water
1 cup heavy cream
1/4 cup sweet vermouth or to taste
Garnish:
1 onion thinly sliced
1 tablespoon butter
Preheat oven to 400 degrees.
On a large baking sheet spread potatoes and fennel. Toss with olive oil, garlic, salt and pepper. Roast for 30 minutes until cooked through.
Sauté the chopped onions in 1 tablespoon olive oil in a large stockpot on medium heat until translucent, 10 to 15 minutes. Add the roasted potatoes and fennel (including the scrapings from the pan) and the chicken stock. Cover and bring to a boil. Lower the heat and simmer covered for ½ hour, until all of the vegetables are very soft. Add the cream and allow the soup to cool slightly. Blend in batches in a food processor or blender until smooth. Return to stockpot and stir in Sweet vermouth. Salt and pepper to taste. For garnish sauté thinly sliced onion in 1 tablespoon of butter until deeply caramelized, about 15 mins. Serve soup with about a tablespoon of garnish.